La Presse zeroes in on digital with new contest
The media company is seeking attention for its digital edition with a new contest.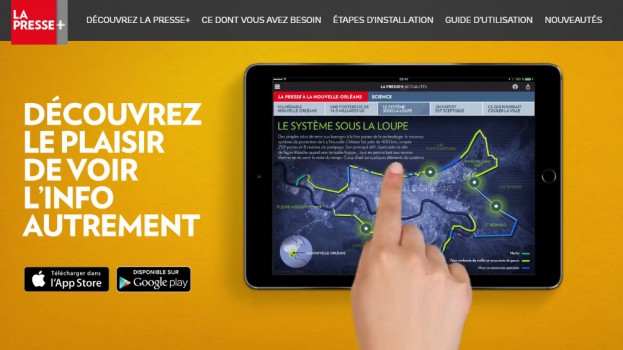 Montreal newspaper La Presse has launched TAC-TIL, a new contest aimed at creative advertising teams who have advertised in its digital property La Presse+.
Agencies, advertisers and freelancers who have produced interactive (HTML advertisements) in La Presse+ between Jan. 1 and Dec. 11, 2016 are free to enter.
The aim, said La Presse sales VP Patrick Jutras, is not only to recognize creative online advertising but to draw attention to the digital ad options on La Presse+, following the cancellation of its weekday print edition earlier this year, which lead to more than 150 layoffs.
"Shifting to digital is a very gutsy move," Jutras told MiC. "It's trying to mitigate the risk as we're living it in the advertising world. Our new DNA is that we are a digital company. We still have our Saturday edition, but over time we are making it clear that we are a digital company and this helps draw the attention of the creative community to those ad offerings."
While La Presse would not provide year-over-year ad revenue details at press time, Jutras said the company has been able to "maintain or transfer most of (its) revenue."
According to Jutras, La Presse+ sees an average of 260,000 page loads and boasts a weekly reach of close to 400,000 unique visitors.
Entries to the TAC-TIL contest will be evaluated by a jury consisting of Jennifer Varvaresso, digital creative director for LG2, Jonathan Rouxel, partner and VP, creative director for Bleublancrouge, Edmund Lam, creative director for Sid Lee, Magalie Samson, creative director for Publicis and Benoid Giguere, senior director of design, interactivity and user experience with La Presse.
The grand prize is a trip for three to the South by Southwest Interactive Festival from March 10 to 14 in 2017. A second and third prize of various iPad Pro tablets are also available. Submissions close at 12 p.m. Dec. 12.