Coors Light hosts a scavenger hunt for Raptors seats on Snapchat
The beer brand is targeting urban millennials with a social contest for front row seats.
As part of its extended sponsorship agreement with MLSE, Coors Light has reserved two branded front row seats at all home games of the Toronto Raptors.
To drive awareness of the Coors Side Seats program with urban millennials, and also get people in those seats, the beer brand reserved a set of tickets to be given away on Snapchat, and is taking the bleachers on the road.
Rather than a typical "answer and win" contest, Leslie Malcolm, marketing manager, Coors Light at Molson Coors, said the team wanted to connect in a way that would resonate with the target market.
So the brand has been running a scavenger hunt on Snapchat, giving the courtside tickets away by asking fans to find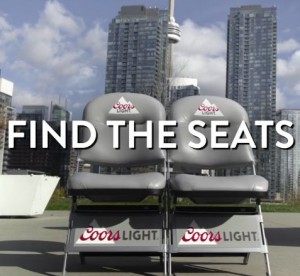 replicas of the seats in Toronto. The contest begins with Coors Light posting a picture of the seats in their hidden location with a text overlay that says the first person to find them wins the tickets. The seats were found in under three minutes for the first contest, said Malcolm. For the second round, winners took 15 minutes, and Malcolm hopes to increase the difficulty even more for the third round on Jan. 13.
Having joined Snapchat as the first Canadian alcohol advertiser nearly a year ago, Malcolm said the contest is a way to do something different and attention-grabbing on the platform.
"It's a way to engage on Snapchat in a meaningful way," she said. "We know how millennials tend to be inundated with content from brands. The idea that the real basketball lovers would be able to drop everything and go on a wild goose chase to find the seats."
 Each Snapchat scavenger hunt is captured with video of the seats being found by Toronto-based Moment Communications, with video used across Coors Light's other social media channels. Malcolm said that to date the promotion has increased views by 2.5 times and grown Snapchat followers for Coors Light by 5,000.
The partnership with the Toronto Raptors is the biggest in Canada for the Toronto Raptors, and is part of a larger deal between Molson Coors and MLSE, which was extended for 10 years earlier this fall.
In addition to the Coors Side Seats program, Coors Light is activating its partnership with the Raptors through retail packaging and displays, programming at bars across Ontario and TV spots on TSN during games.