Snapchat monetizes World Lenses, while Instagram jumps on the filter train
Snapchat has added a new option for advertisers on its World Lenses, while Instagram's stories offering is now one step closer to Snapchat.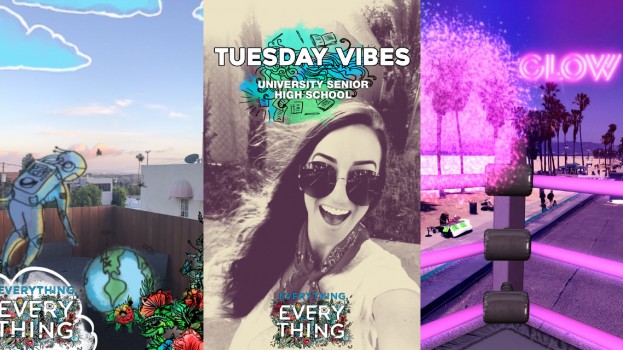 Canadian advertisers can now sponsor Snapchat's World Lenses, a collection of filters and actions on the mobile platform that go beyond the standard selfie filter.
Brands looking to create augmented reality-style ads using Snapchat's World Lenses can now do so through the app's sponsored creative tools. World Lenses include floating 2D or 3D objects, action-based animation and even gamified lenses. The first advertiser to partner on a World Lens was Warner Bros, creating a filter for the film Everything, Everything. The branded lens will feature bird and flower decals (as well as the movie's logo) decorating images captured through the Snapchat front-facing camera. Other upcoming U.S. advertisers on the feature include Netflix (for its series Glow) and Dunkin' Donuts.
A representative from Snap said its lenses and geofilters are a big asset for brands — more than one-third of Snapchat's daily users play with lenses every day. When it comes to sponsored lenses, users engage with the lenses for more than 15 seconds before snapping and posting a picture.
The monetization of World Lenses is the latest in a series of ad updates for Snapchat. In the past month, the company has also launched a self-serve ad manager and added its geofilters to its API.
Last week, the company posted its first financial results since going public in March. While its revenue for the quarter ($149.65 billion) nearly tripled year-over-year, it posted a user-growth of 5% quarter-over-quarter, a growth rate that failed to impress the likes of Recode and Business Insider. According to Google Finance, Snap's share price dropped from $23.01 to $17.95 on the morning following the release of its financial statements, its lowest price since the company's IPO in March. The price has since risen to $20.74 as of market close on May 15.
Meanwhile, Instagram Stories is now one step closer to Snapchat with the introduction of a new "face filter" feature — similar to the filters Snapchat provides, such as its famous puppy-face filter. A rep for Instagram has confirmed that the company has no immediate plans to add sponsored filters, however.
Prior to this update, Instagram Stories included static filters on lenses (such as different colours) and stickers. Posts can now also be adorned with hashtags through either simple text or a new hashtag sticker, which will help make Stories discoverable to users who aren't already following one another.
Instagram has also added new drawing tools and camera options including the ability to capture video in reverse.
As of April, 200 million people were using Instagram Stories. Facebook does not release country-level data for Instagram Stories, but a rep for the company has told MiC that Instagram has 8.5 million monthly users from Canada.