Spotted! Pringles slides in a new flavour
Kellogg Canada used a ketchup-covered slippery slide to celebrate its new ketchup flavour and set a very sloppy world record.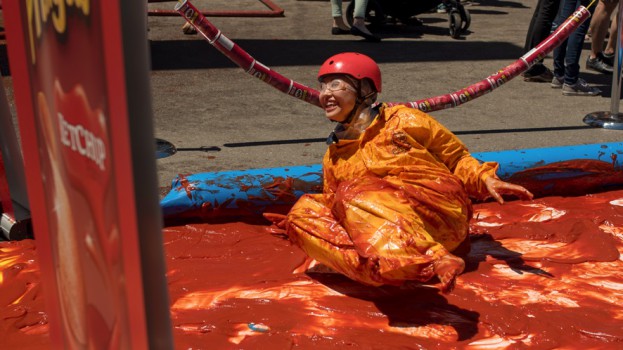 Kellogg Canada got the summer water slide season started early this weekend with a twist: a ketchup slide.
The messy, 50-foot slippery slide was unveiled in Toronto at the corner of Simcoe and Front streets on June 3 as part of a promotion for Pringles' new ketchup chips flavour.
The flavour, which was previously introduced on a limited-time basis in Canada, became permanent in April. Kellogg Canada timed this promotion with the nearby dates of June 5, a.k.a. National Ketchup Day (a real thing) and Canada's 150th birthday in mind (since, of course, Canadians love their ketchup chips). The aim was to set a World Record for "the Most Canadians to slip down a Ketchup covered Slippery Slide in one hour" (unsurprisingly, this title had no pre-existing record-holder). In the end, 52 people went down the slide in one hour (achieving the record).
The activation was supported by boosted social advertising across all of Pringles' social properties (Twitter, Facebook, Instagram) with a media buy by Starcom and public relations by Strategic Objectives. Pringles also engaged former Toronto Blue Jay Brett Lawrie to cheer on the sliders and promote the event.
A larger campaign promoting the chips will feature YouTube pre-roll, social, mobile advertising, couponing and in-store display. Starcom is managing media buy and placement, with Grey Advertising USA on strategy and creative development, LPK for packaging and POS and Strategic Objectives is again on PR.
The ketchup campaign is targeting "social connectors," millennials and those "youthful in spirit" who embrace new things, Jeff Chatterton, director of snacks and frozen at Kellogg Canada told MiC sister publication strategy via email. The creative for the campaign incorporates a playful tone and stop-motion animation with the tagline "Better late than never" to describe the pairing of Pringles and ketchup flavour.
Pringles currently represents 3.6% of the chip market in Canada.