TV and digital gap to narrow: Zenith
Zenith's newest numbers show that Canadians' mobile usage is surging - but it's not enough to make up for drops in other media.
The latest findings from Zenith show that TV is still the number-one media choice for Canadians and, despite declines, it is projected to stay that way for at least another three years.
But according to the agency's latest global media consumption report, the gap between TV and digital media (which continues to grow its share of Canadians' time) will narrow over time.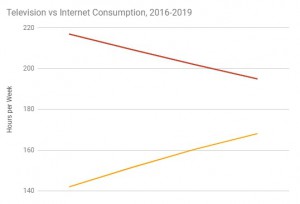 Currently, Canadians spend 43.8% of their media time on television (216.9 minutes per day) and 28.7% of their media time online (142 minutes). Zenith predicts that three years from now, Canadians will spend 40% of their media time on television (194.9 minutes per day) and 34.5% (168.1 minutes) online.
Current digital minutes will increase by 20.2% over the next three years (an average of 6.7% year-over-year). TV minutes will decrease by 8.7% of the current total over the next three years (2.9% year-over-year).
Canada still has more of an appetite for television than the global population — in 2016, the worldwide average for TV consumption was 174.9 minutes per day, and in 2019, that total is predicted to fall to 163.9.
And, despite the increase in digital, it's not enough to offset moderate drops in engagement across traditional media — newspapers, magazines, television and radio. By 2019, Zenith predicts that Canadians will consume slightly less media than they did in 2016 on a daily basis (about eight minutes less per day — still a total of 486.8 minutes per day).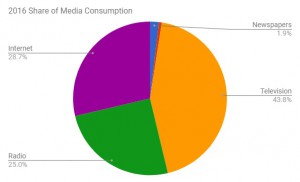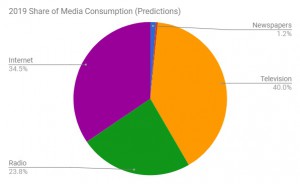 Media consumption has been on the decline for the last three years. In 2013, Canadians hit a total of 530.8 minutes of media consumption per day (dominated by television). Even time spent on digital is only increasing due to a surge in mobile use, as desktop continues to drop.
For Canadians, time on mobile internet surpassed desktop in 2015, and the gap continues to widen. By 2019, mobile internet usage will be double that of desktop, at 112.1 minutes per day on mobile and 56 minutes per day on desktop.
However, globally, that gap is even wider, as mobile consumption will be nearly four times that of desktop by 2019 (122.1 minutes on mobile; 35.2 minutes on desktop). This is driven largely by heavy mobile consumption in the U.S. and Asia Pacific regions, and in markets where mobile phones are more easily accessible than desktop computers.
The consumption habits predicted fall in line with the Canadian media spend report Zenith released earlier this year, which showed a 24% increase in online advertising and drops for television, newspapers, magazines and radio.
Photo by Parker Byrd, courtesy of Unsplash