Douglas Knight on the business of building community
After announcing his retirement, the president of St. Joseph Media says change is constant, but the last decade has been a big challenge.
Of his 40 years in media , Douglas Knight has spent the last 10 at the top of the St. Joseph Media's masthead as its president. And those 10 years, he tells MiC, have been some of his most challenging. The company has added a number of new revenue streams such as high-end events, an online shopping platform and the custom content division Strategic Content Labs that Knight helped to launch.
But Knight won't be going back into the office after the Canada Day long weekend as he has announced he's set to take his retirement.
With less than a month to go before he clears out his desk, Knight spoke with MiC and reflected on some of the biggest changes he's witnessed: how editorial staffers are having to do double-duty as old-school print editors and savvy social reporters, how media is finding its survival in smaller niche audiences and why he thinks there's still an appetite for quality journalism.
In your 40 years in the business and 10 years at St. Joseph, what are the biggest changes you've witnessed?
For context, I came into St. Joseph in 2006, which was a very good year. It was very much a magazine company. Then we got the '08 and the '09 downturn, and that was ugly for the whole economy, and it's been a constant shifting landscape in particular for legacy media players. I think we've tried to stay ahead of the game. Toronto Life now has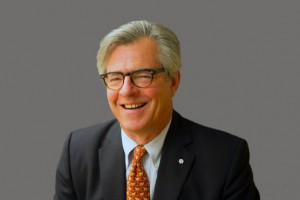 a larger digital audience than print. The print product is very strong, the social media side has grown, and over the years that meant finding teams that used to be in silos — your print and your digital operations — and bringing those together. That was the matter of strategy, but also people wanting to do that. That's the challenge most legacy media operations.
At the same time, revenue has just fallen off the cliff. Yes, there's digital revenue, but the vast majority goes off to Google and Facebook. If we're not achieving that digital revenue, it doesn't mean we need to get better at digital. We're spectacular at digital. It's just all going to those two big players.
So what's the long-term solution?
You have to start thinking strategically. You have to ask yourself, "what's the power of what you do that the people are willing to pay for?" You end up going from a world where people wanted to reach millions of people, and now they're really keen to reach three thousand people. That leads to things like events. In a very high-tech world, people appreciate high-touch.
You start to take the brand image that you have for a magazine like Toronto Life and use the power of that brand, which is the power of bringing the community together in ways that will provide the revenue in a wide variety of ways.
This may seem like a bleak question, but do you think given the state of the media industry, you're retiring at the right time?
Changes have been afoot forever. They're a constant. Literally, when I began, we were still on typewriters. And then suddenly we had computer terminals at people's desks, and we had to take yellow cards and make them digital. Then we went to searching databases, searching CD-ROM, until finally the internet comes along. There have been dramatic decisions almost constantly.
Really, I turned 65 in February, and I reached my 10-year anniversary at St. Jo's shortly after. I did not expect to stay here for 10 years. I had come back from New York, and I expected to stay for two to three years, turn around the magazine, and then go back to what I'd been doing before. So it's been a hell of a ride. But I simply reached a point where I knew I didn't want to wake up from five years ago and say, "Oh my god, I'm 70 now and still doing the same thing."
What are some of the positive or more hopeful things that have come from the transformation of the business?
We've seen an increase in the importance of Canadian voices. When you look on a global scale at the protectionism and nationalism, everything going on in the U.K. with their recent election, if you look south of the border, you see that Canada is very different. You have First Nations, English, French, more than 200 ethnic groups. We're distinguished from others in that way, and people are eager to have Canadian voices and Canadian stories. Despite the disruption of the underlying business models, there is the demand for us to deliver that content.
Moving forward, what do you think is the safest bet for a model that will allow that content to get out there?
If you have strong media brands, if you've created something that has resonated with a community extremely well, you have a convening power with that brand. As we move into the future, the revenue will not be one thing. Media companies will use that convening power across multiple platforms and find multiple ways of bringing people together. By adding all that up, you can create enough economic juice to pay for the journalism and pay for the operation. But that's not to say that it won't be a lot more work. It requires a lot more creativity than just putting out a magazine once a month.