Spotted! Nescafe targets Queen West millennials
The brand's café is a stunt to introduce a new demo that loves hanging out in coffee shops to a homemade cup o' joe.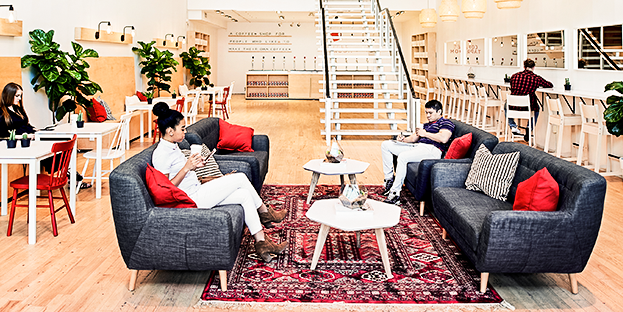 It's billed as a millennial's dream: comfy couches, free wifi, outlets all around, bright windows, no rude baristas and a trendy Queen St. West neighbourhood in Toronto. Oh, and the coffee is free. In fact, you bring the coffee.
That was the premise behind Nescafé's new experiential marketing stunt, which popped up in the form of a temporary coffee shop in Toronto on Queen West near Portland a couple weeks ago. The Nescafé "Taproom" doesn't feature cashiers or baristas — instead, would-be customers have to pour their own hot water into a cup and mix with a Nescafé Sweet & Creamy sachet. The catch is that the customer has to provide the Sweet & Creamy sachet. The sachet is actually the customer's ticket in — a code on the pack is what unlocks the door.
Since the store launched in mid-June, street teams have been handing out the packs of Sweet & Creamy in surrounding downtown neighbourhoods, targeting students and young professionals.
The millennial demographic is somewhat new for Nescafé. After years of chasing the older age group, Nescafé first pivoted toward the under-35 crowd when it relaunched its Sweet & Creamy instant coffee product last year, accompanied by its "Adulting" digital campaign, and product sampling on campus. At the same time it pivoted on the demographic, senior marketing manager Deana Zaghloul said the brand also changed its media strategy, using more digital media and various social platforms, as opposed to television.
Zaghloul told MiC the pop-up is a direct continuation of last year's campaign. The Sweet & Creamy product is a home coffee product — ideal for thrifty students, she said. The problem? "This consumer likes to hang out in coffee shops," said Zaghloul.
So, the company decided to bring the coffee shop to them, without the transactional aspect.
On top of providing a fun, social media-worthy experience for the consumer, Zaghloul said the goal is to recruit the young consumers and keep them on as Nescafé drinkers as they get older and move beyond their student years.
The Taproom is being promoted through an extensive social media advertising campaign, with boosted content on Facebook and Instagram, content from the Taproom on Instagram Live, and a Snapchat geofilter available from inside the store. The media buy was conducted by Cadreon.
Other agencies included experiential shop Mosaic, U.S. creative shop Work in Progress, and PR agency Narrrative.
Zaghloul acknowledged that plenty of brands are creating pop-up shops to create an engaging in-person experience (including QSR Tim Horton's, which recently built a temporary pop-up latté shop to promote its re-launched espresso line), and that Nescafé wanted to try something similar to catch the attention of a particular demo. The Taproom's location on Toronto's Queen St. West was chosen for its heavy foot traffic and close proximity to hip, young neighbourhoods.
The Taproom will be open until June 28. While there are no immediate plans to launch another location, the company website is asking users which city they would like to see the next Taproom in, so Zaghloul said the stunt may spread across Canada.
She said in the pop-up's first week, it saw an average of 1,200 customers per day.