Spotted! McDonald's gets benched
To celebrate its "McDelivery Day," the chain opened up a series of pop-up benches in urban areas.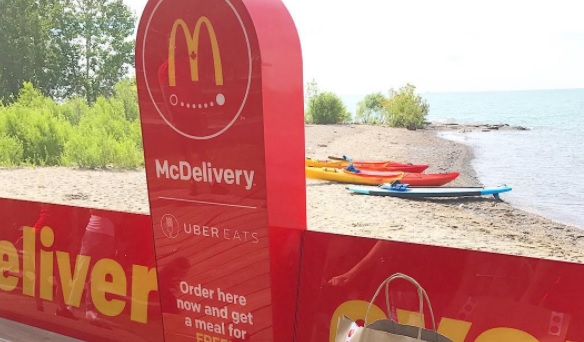 July 26 was the official kick-off of McDonald's Canada's partnership with UberEats, which will give residents in some cities a change to have McDonald's delivered to wherever they are.
To mark the day (which it dubbed "McDelivery Day"), McDonald's Canada added a small number of surprise, pop-up benches in all of the cities where the McDonald's delivery option is available: Toronto, Ottawa, Edmonton, Montreal and Calgary. Customers could place orders through the UberEats app, and food would be delivered to the bench. The bench activation was conceived by Cossette.
Those who ordered from the bench also had a chance of being randomly selected to receive some custom McDonald's apparel, including Big Mac pillows, blankets and onezies. The apparel was delivered along with the order.
Adam Grachnik, external communications manager with McDonald's Canada, told MiC the locations selected within the cities were designed to be popular destinations that weren't exactly in the middle of the downtown core. For example, in Toronto, the benches were set up in the west-end residential neighbourhood of High Park, as well as at tourist attraction Casa Loma.
Grachnik said an extremely central place like Yonge-Dundas square was "a little expected," and the more offshoot neighbourhoods helped to drive the messaging.
"We really wanted to surprise people, and this helps us to say, 'we deliver here.'"
No paid media was used to support the activation, as it was designed to be a surprise and send fans on a hunt for the benches.