Astral takes off at Pearson
The new digital billboards will target travellers on their ways into and out of the city, with an estimated 800,000 daily impressions.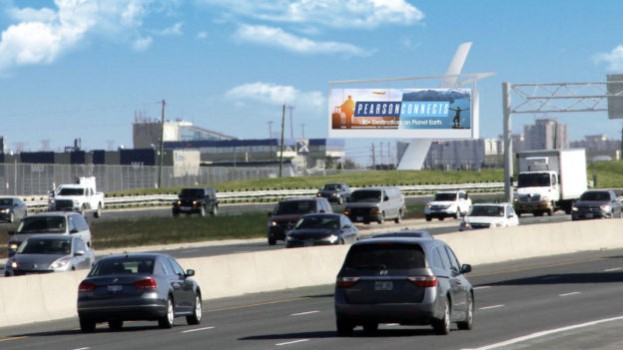 Bell Media's Astral Out of Home has officially unveiled two new digital billboards in Toronto in partnership with Toronto Pearson International Airport.
The first board is located at the intersection of Highway 401 and Highway 427 and the second is along Highway 427 but closer to the airport.
The two boards, which measure 18′ by 60′ (Highway 401 and Highway 427) and 14′ by 48′ (Highway 427), will display a combination of paid advertising and information from Pearson.
For Astral, the boards (which are designed to resemble the wing of an airplane) represent an opportunity to reach up to 44 million annual passengers who pass through Pearson. Debbie Drutz, VP of sales for Astral, told MiC, the estimated daily impressions come close to 800,000.
Astral now boasts a total of 136 large digital highway faces across Canada, 40 of which are in the Toronto area. Drutz said Astral has similar relationships with other airports (such as Vancouver), and that these partnerships are part of Astral's long-term strategy to reach consumers in more "innovative" spaces. It also adds to Astral's long-term vision of holding a large arsenal of digital faces.
Upcoming advertisers for the screen include Nestlé, Tim Horton's, West Jet and Fan Expo.