Comedy unveils its politically charged line-up
From returning series The President Show and The Beaverton to the new series The Opposition with Jordan Klepper, many of comedy's programs are lampooning current politics and media.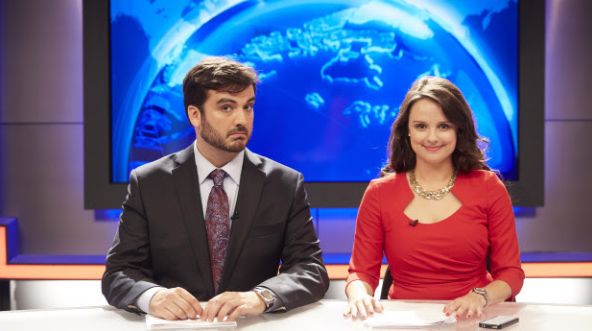 Bell Media's specialty network Comedy has released the details around its fall TV schedule, with many of the shows taking an increasingly political tone.
Scripted sci-fi parody People of Earth and late-night talk series The Jim Jeffries Show debuted earlier this week, with their second seasons dropping Sept. 19 (Tuesday) at 10 and 10:30 p.m. respectively.
New series The Opposition with Jordan Klepper will premiere Sept. 25 and will air Mondays at 11:30 p.m. The series, which airs on Comedy Central in the U.S., is exclusive to Comedy in Canada and stars former Daily Show correspondent Klepper as a far-right, conspiracy-minded news host on a quest to take down the "fake news media."
On Sept. 29, The President Show will return for another season, taking aim at the current U.S. president (obviously). The series will air Thursday nights at midnight and stars comedian Anthony Atamaniuk as Trump.
Next on the schedule is JFL: All Access, which will begin rolling out its fifth season Sept. 30 and air Saturdays at 9 p.m. The upcoming season will include a performance by the late Carrie Fisher.
Keeping in the spirit of political lampooning, satirical news series The Beaverton (pictured) will return Nov. 1 and air Wednesdays at 10 p.m.
The network has also announced a number of comedy specials anchoring its Saturday night lineups, including the already-aired Alonzo Bodden: Historically Incorrect on Sept. 16 (featuring the Last Comic Standing winner tackling historical inaccuracies and hypocrisies in modern culture). Upcoming specials include Deon Cole: Cole-Blooded Seminar on Sept. 30 at 11 p.m., which will see the comedian tackle issues including white actors, "managing" one's blackness and the "mystery" of B batteries; and Amy Schumer Presents Mark Normand: Don't Be Yourself on Oct. 7 at 11 p.m., featuring Normand cracking jokes about his own introverted nature. Other premieres include Comedy Central's Colossal Clusterfest on Sept. 23 at 11 p.m. and Joe Derosa: You Let Me Down on Oct. 14 at 11 p.m.
Every weekday from 7 to 9 p.m., reruns of comedy series including Friends, Seinfeld, The Goldbergs and Fest Off the Boat. That strip programming is part of Comedy's strategy to attract more of a mass audience, Mike Cosentino, president of content and programming, Bell Media, told MiC around this year's upfronts. Those popular programs are placed to increase audiences heading into the 10 p.m. slots.