ICYMI: Winners for the Bing Agency Awards and OOH Showdown
Plus, Disney announces brand partners for Star Wars promotions and Google Canada announces a news literacy program with the CJF.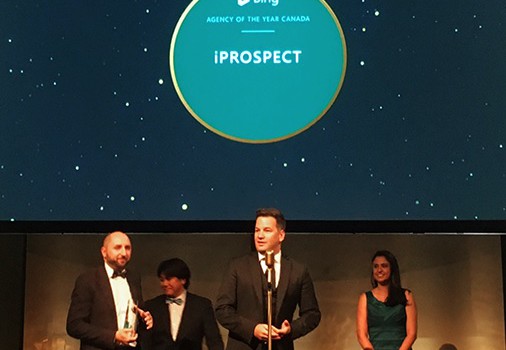 iProspect wins at Bing Agency Awards
The second annual Bing Agency Awards, held in New York City, saw iProspect Canada take home the Agency of the Year recognition for the Canadian market. The awards serve to recognize agencies, teams and individuals for the work they do with Bing Ads. Canada's Catalyst was also recognized as one of the two Accreditation Champions of the Year, based on the Bing Ads March Match Up contest.
Ad Club announces OOH Showdown winners
The Ad Club of Toronto has announced the winners for its 2017 OOH Showdown at the recent Out Of Home Day event. Winners for the day were:
Pattison Outdoor: Large format digital billboard (Reactine Pollen Report); Canada 150 category ("150+ Reasons");
Branded Cities: Large format static billboard ("Golden Horseshoe" campaign); Street level/transit/transportation ("Moosehead 150″ campaign); Non-traditional ("Masterbrand 2017″); Multi-platform (Nordstrom Toronto Store Openings 2016);
Extreme Reach: Indoor place-based OOH (Lego Batman Movie campaign);
Camden: Mobile Integrations ("1001 Façons"); and
Rouge Media Group: Experiential (Cottonelle "Stroke-able" billboard)
Rouge was also named the Grand Prize winner for the Cottonelle billboard.
Disney Canada joins forces with three brands to launch Star Wars campaign
Walt Disney Studios Motion Pictures Canada has paired with Canadian Tire, Nissan and Royal Philips for its promotional campaign in support of Star Wars: The Last Jedi. Greg Mason, VP of marketing for Walt Disney Studios Motion Pictures Canada, has not given away any details yet on the brand partnerships, but a release from Disney said the brands will offer specific, custom-designed campaigns and programs to enhance the studio's overall marketing campaign for the film. Star Wars: The Last Jedi opens Dec. 15.
CJF launches news literacy program
The Canadian Journalism Foundation (CJF) has partnered with Civix to launch a news literacy program, entitled NewsWise, with a $500,000 investment from Google Canada. The program targets school-aged Canadians ages 9 to 19 and aims to provide a deeper understanding of the role of journalism. Civix is the same organization that created the Student Vote program, which teaches young Canadians about the importance of civic engagement and voting, andvreaches 7,500 schools across Canada (89% of Canadian school boards).