Hendrick's hot air adventure finds success
The brand built on its tradition of "unusual" experiential marketing at Toronto's Nuit Blanche festival.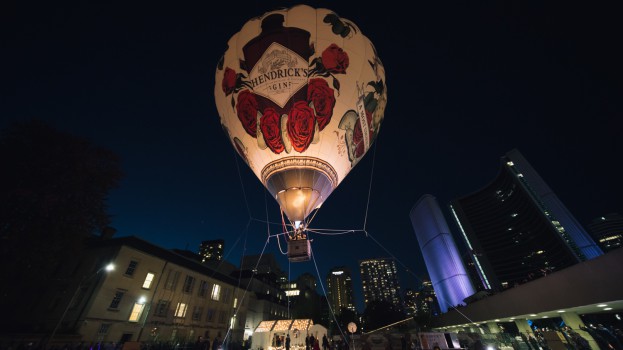 For this year's all-night Nuit Blanch art event in Toronto, Hendrick's Gin inflated its own installation – a hot air balloon known as the Hendrick's LEVITATRE (or "Levitating, elevating, voluminous, illuminating, tantalizing, amazingly towering roaming eye").
The balloon was floated more than 40 feet — or, in the cucumber-infused Hendrick's terms, 44.25 cucumbers — above the ground in the city's Nathan Phillips Square in order to promote its "unusual" nature, said senior national brand manager Beth-Anne Perry.
It was Hendrick's first appearance at Nuit Blanche and served as the festival's first official liquor sponsor.  As part of the sponsorship, Hendrick's also hosted the Hendrick's Air Departure Lounge adjacent to the balloon station at Nathan Phillips Square, filled with Victorian decor, magicians and mentalists.
Prior to the festival, the LEVITATRE was promoted through a "Golden Ticket" contest, which was promoted online, on social and in LCBO stores. Winners got to take part in the hot air balloon ride, which took a total of three minutes from lift to landing, and included custom digital photos and access to the Departure Lounge.
The LEVITATRE activation was, in Perry's words, a follow-up to Hendrick's last big Toronto activation in November, when the brand turned heads at the Eaton Centre with a large pipe organ with keys made out of cucumbers.
Perry said giving its experiential activations a topsy-turvy twist helps to reconcile Hendrick's indie image with its quest for mass appeal. "We have a goal to truly drive awareness in Canada," said Perry. "The challenge is to make sure we're not taking away from that nature."
Agencies behind the activation include Jungle Media on the media buying, experiential agency Ambient Squared and AGM on public relations.
The contest to get a VIP ride in the balloon garnered 5,000 entries, which Perry said is five times the global average for Hendrick's international contests. The City of Toronto confirmed that 1.5 million people went through the City Hall/Nathan Phillips Square area during Nuit Blanche, and Hendrick's hosted 395 balloon riders from 7:00 p.m. to 7:00 a.m.
Perry said the pre- and post-event ramp up on social media also scored three times the global average for relevancy on Facebook, with impressions two times greater than any other Hendrick's ad on the platform. She said traditional media placements and impressions are also up, with the LEVITATRE receiving mention in 281 media pieces (11 more than the cucumber organ).
"The fact that we had traditional media outlets like CBC News and Global News there really says that we had something special," she told MiC. Perry said the brand is now looking to do whimsical, experiential activations in the public space every six months or so.
According to Perry, the brand has a 28% market share for premium craft gin in Canada and a 71% sample-to-trial conversion rate.
Image: Rick O'Brien