How Hopper's Stories strategy paid off
Growth manager Simon Lejeune said strategies are tricky for mobile-only companies.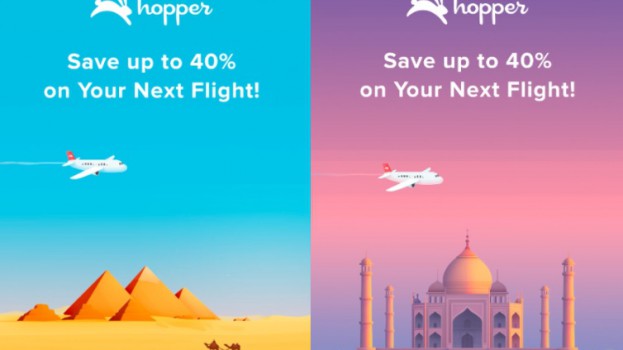 When you're a mobile-only company, there are certain media strategies that just aren't available to you. Despite that, Montreal-based travel start-up Hopper says its found an option that paid off in ways the company didn't expect.  It's just wrapped up its first round of Instagram Stories advertising.
Simon Lejeune, growth manager at the flight booking app, told MiC that its recent Stories campaign resulted in a 67% higher rate of app installs than previous campaigns, and 80% higher booking rate for new users.
The app launched in 2015 and currently has 17 million downloads. It uses data analysis to predict if and when flight prices will go down, sending push notifications to customers when they should book a flight they're looking for. Being mobile-only works for the company's model, said Lejeune, but it meant it couldn't promote itself the way its standard competitors do.
"Most of the other large travel advertisers rely on [search] to promote," he said. But being mobile-only meant services like Google AdWords weren't an option.
It also didn't have the budget of competing major travel companies when it came to media spend. "Expedia would probably spend our entire annual marketing budget in six hours," Lejeune estimated.
In its first year, the company focused on Facebook for customer acquisition with 100% of its marketing budget spent on the platform. This resulted in high usage rates and, Lejeune said, because of its push notification model, high retention rates. It then added other social such as Instagram feed advertisement and Snapchat to the mix, but it was only this summer that it took to Instagram Stories to push for more millennials to install the app.
Hopper worked directly with Instagram, with no input from a media buying agency. "Speed of execution is very important to us," said Lejeune. "As soon as the ad placement became available for us to do app installs, we went for it."
He said the Story ads — which integrated the swaths of data Hopper has gained over the last two years — were conceived because "Instagram Stories users can be seen as early adopters of new technology." The engagement rate and the booking results told Lejeune it was a success, but he's still looking to grow the program
The next step, said Lejeune, is to work on automations for Instagram Story ads. "Stories are a bit different from other placements," he said. "It's portrait, which is not common, and it is a maximum 10-second ad. You can't just check off a box like you would with Instant Articles or a news feed ad. That's going to be the next thing that we look at."