Spotted! Skittles' no-cash vending machine
The Wrigley Canada brand wanted Torontonians to know that on Friday the 13th, an unexplained streetside vending machine was indeed a good omen.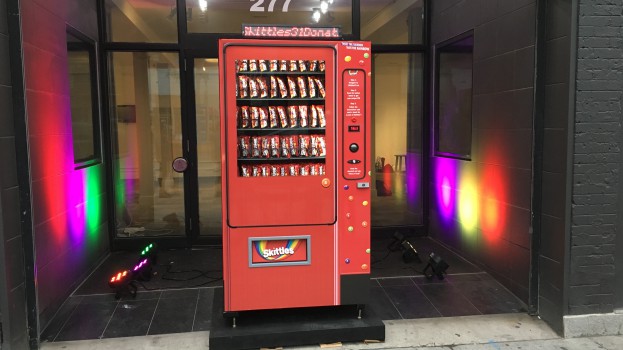 There are a few things you wouldn't want to encounter on Friday the 13th — black cats, shattered mirrors, ladders — but Skittles wanted to assure people in downtown Toronto that encountering its new streetside vending machine is indeed a good omen.
The candy maker took up residence on Queen Street West for the day with brand ambassadors attracting passersby to a vending machine in the middle of the sidewalk.
The machine, however, did not accept cash for candy. Instead, it dispensed skittles if participants Tweeted "#Skittles31Donation," which not only gave them a handful of skittles, but also resulted in 31 cents per Tweet being donated to Ronald McDonald House Charities Canada.
While the stunt only lasted one day, Skittles will continue the charitable Tweet promotion until Oct. 31 and promote it through digital and social media, as well as through influencers.
Laura Amantea, marketing director at Wrigley Canada, said this promotion was in line with Skittles' mandate to provide "unexpected" marketing campaigns. She said its media spend is fairly thorough in all types of media, but experiential is a big part of its identity. With it being close to Halloween, she said, the brand wanted to do something to get it in front of consumers' minds.
Skittles has flexed its experiential muscles in downtown Toronto before. For two years in a row, it's created the Skittles Holiday Pawn Shop, which allowed Canadians to swap unwanted Christmas gifts for candy, both at a physical pop-up location in Toronto and online. The campaign received medals with a number of media awards programs, including the Cassie Awards, Marketing Awards, Shopper Innovation Awards and Cannes Lions.
Skittles worked with MediaCom MBA on the experiential component, Harbinger on PR and influencer relations and Tribal/DDB on creative.