Digital to take up nearly half of ad spend by 2020: report
Mobile will also make up more than three quarters of global digital dollars.
The volume of dollars spent on digital media shows no sign of decreasing according to new research from eMarketer.
It's latest reports also projects ad spending in North America to see consistent single-digit growth annually between now and 2021. But the market will generally lag global spending increases, where Latin America and Asia Pacific are expected to lead.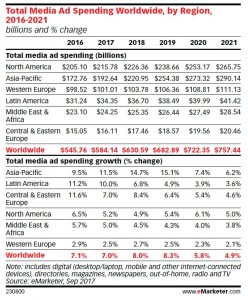 Latin America's ad growth over the next four years is projected to average 10%, fueled largely by the region's historic enthusiasm around the World Cup of Soccer, set to be held in 2018. Asia Pacific will lead the charge for growth at an average rate of 11.5% from now to 2021, particularly driven by digital investments in China and India (this past year, China had a higher rate of digital investment than any other market, representing 59.5% of its total ad dollars).
North American ad spend grew by 6.5% in 2016 (totaling $205 billion), and it is estimated that 2017 will end with a 5.2% increase.
Over the next four years, growth will hover between 4.9% and 6.1%, bringing the market's total estimated spend to $265.75 billion, eMarketer said.
Although North America's growth rate is below the global average, the study's authors said that's not due to weakness. They said North America is already "one of the more digitally mature regions in the world," currently representing the largest share of global ad dollars, at 36.9%.
The peak growth is expected to come in 2020 at 6.1% due to the scheduled Summer Olympics and U.S. presidential election that year.
Digital growth
Digital growth will over-index total ad growth, representing a bigger chunk of the world's ad spend every year, according to the report. By 2021, digital will make up virtually half of marketers' advertising budgets (49.6%) — a steep climb from the 35.2% recorded in 2016.
In 2016, digital ad spend grew by 20.1% year-over-year. Although the growth rate will gradually slow as the online ad market matures over the years, by 2021 the growth rate will still be just shy of 10%, still outpacing average growth of ad dollars. That year, global digital ad spend will clock in at $375.80.
The massive growth for digital is driven primarily by advertisers' high interest in mobile, according to eMarketer. With more and more companies and exchanges devoting themselves to the mobile market, the study stated that prices of mobile advertising are rising across the board.
It's no surprise, then, that as digital spend takes a bigger piece of the ad spend pie, mobile comes more prominent within digital spending. Already in 2016, mobile represents more than half of digital spending (55%). In 2021, eMarketer estimates that it will take up 75.7% of digital spend, and 37.5% of total ad spend.
Photo by Rodion Kustaev, courtesy of Unsplash