CFL jersey patch up for bid
With CP shifting its sponsorship dollars after the Grey Cup, the Canadian Football League goes looking for the next brand to live over players' hearts.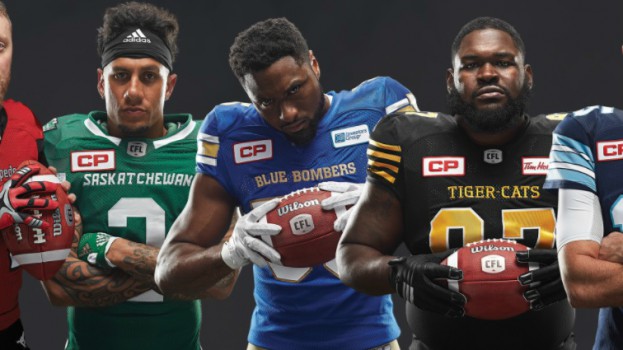 The Canadian Football League has opened bidding on its jersey patch to brands as its current deal with Canadian Pacific is set to expire following the Grey Cup next month.
The league considers the patch, which appears on the right side of every player's jersey, to be one of its most visible sponsorship assets across all 81 of its regular, pre- and post-season games.
"We're looking for a deeper, more integrated relationship, which we have had and will continue to have with Canadian Pacific," said Tyler Mazereeuw, VP of corporate sponsorships for the CFL. Depending on the brand category, Mazereeuw said the deal could include a community or social overlay, or even inclusion on jerseys sold at retail.
Although the jerseys of the MLB, NFL and NHL leagues remain ad-free, the NBA began featuring some sponsored jerseys last year and will bring them league-wide next season. As part of the program, the Toronto Raptors' jerseys will don a Sun Life logo for the first time. But Mazereeuw said these kinds of sponsorship deals don't typically include ownership of the post-season, as it does in the CFL.
The league estimates that its patch garners millions of media impressions via highlights, social, print and online coverage, as well as organic fan-generated content. Last year's TV ratings showed league games drew an average of 553,000 viewers on TSN and 130,000 on RDS in Quebec. The CFL and its teams generate 11 million social media engagements per season, and it says that more than 65% of that social content includes imagery of players in their jerseys.
Mazereeuw said the CFL is open to working with local or international brands as part of the multi-year deal.
"What we don't want is to have a revolving door of brands on our jerseys," he said.
Home improvement retailer Rona was the first brand to sign on for a regular-season jersey patch sponsorship in 2005, a deal that lasted nearly a decade. Canadian Pacific has owned the patch for the last three seasons.
The CFL currently works with a mix of Canadian and international sponsors, including Adidas, Pepsi, Nisan, AGS, Kal Tire, and Shaw.
The end of the bidding process will be decided in the coming months; however, the league expects to have the new patch in place in time for the 2018 pre-season in June.