Spotted! Bad Moms' confessional vending machine
How Entertainment One is reaching out to Christmas movie-goers before Halloween.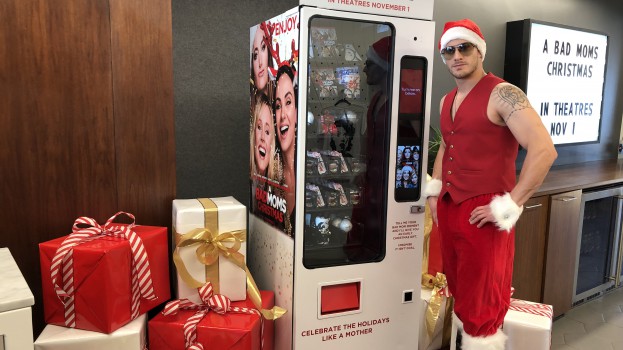 Mothers willing to share their holiday confessions can be treated to an early present this year thanks to an early holiday activation from Entertainment One.
The media company is placing a vending machine with AI capabilities in locations throughout Toronto to support next month's release of A Bad Moms Christmas, the sequel to last year's Bad Moms. From now until Nov. 3, women (or anyone, really) can confide in the vending machine and receive a gift in exchange.
The machine began at the Mogo Lounge (pictured) before moving to Billy Bishop airport over the weekend. It will spend a few days at the Promenade Mall's Women's Fitness Clubs of Canada and conclude the tour at Her Majesty's Pleasure salon.
The machine's AI interface, developed by agency Usful, incorporates an element of personalization by selecting a gift based on the shared confession. The giveaways include Molly Maid gift certificates, Buck Naked Soap bath bombs, McGregor holiday socks, Kernels popcorn and gift cards, Her Majesty's Pleasure gift cards, and Bad Moms products.
Natalie Petozzi, Entertainment One's director of publicity and promotions, said it's the first time it has used AI technology as part of an experiential campaign.
The company was looking for a way to connect with people about a Christmas-themed movie before Halloween. (The activation began on Oct. 25.)
Petozzi said Entertainment One doesn't shy away from experiential campaigns, but not all films lend themselves as easily to such campaigns. As opposed to heavy dramas, for instance, light-hearted comedies like A Bad Moms Christmas are an easier tie-in for an experiential campaign.
Usful led on creative with Starcom handling media buy.