Big Bang maintains the top spot: Numeris
CTV's most popular comedy once again held the top spot, but with its average audience dipping slightly for the second week in a row.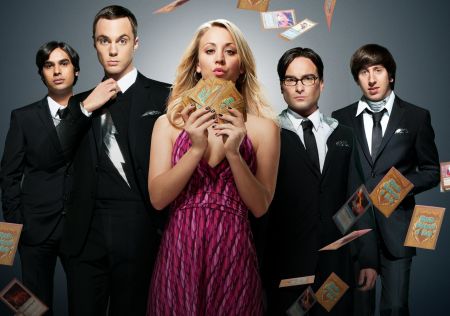 The gap continues to narrow between two of CTV's most popular shows.
The Big Bang Theory on CTV took the top spot in Canada for the week of Oct. 16 to 22 for the highest AMA of all single-night broadcasts, according to Numeris. Despite landing in the top spot, its average-minute audience fell slightly from the previous week, at 2.94 million down
Its average audience of 2.94 million fell slightly from last week's 2.96 million.
It was followed by CTV's new drama The Good Doctor, which has ranked in the top-five since its premiere four weeks ago. Again this week, The Good Doctor grew its average audience slightly to 2.70 million up from 2.68 million. In most markets, The Big Bang Theory was the big winner, but The Good Doctor managed to maintain the top spot in Vancouver/Victoria for the second week in a row.
Filling out the top five nationally were Global's Survivor with 2.06 million viewers, NCIS with 1.93 million, and Bull, which pulled in 1.72 million viewers.
In the Francophone market, TVA's reality competition series La voix junior continued to lead the pack for the fifth straight week, falling slightly to 1.90 million from last week's 1.92 million.
Canada
1. The Big Bang Theory on CTV Monday at 8 p.m.: 2.94 million viewers
2. The Good Doctor on CTV Monday at 10 p.m.: 2.70 million viewers
3. Survivor on Global Wednesday at 8 p.m.: 2.06 million viewers
4. NCIS on Global Tuesday at 8 p.m.: 1.93 million viewers
5. Bull on Global Tuesday at 11:00 p.m.: 1.72 million viewers
Montreal (Anglophone)
1. The Big Bang Theory on CTV Monday at 8 p.m.: 111,000 viewers
2. The Good Doctor on CTV Monday at 10 p.m.: 97,000 viewers
3. This Is Us on CTV Tuesday at 9 p.m.: 90,000 viewers
4. Criminal Minds on CTV Wednesday at 8:00 p.m.: 70,000 viewers
5. Law and Order: SVU on CTV Wednesday at 9 p.m. – 70,000 viewers
Quebec (francophone)
1. La voix junior on TVA Sunday at 7 p.m.: 1.90 million viewers
2. Unité 9 on SRC Tuesday at 8 p.m.: 1.54 million viewers
3. Tout le monde en parle on SRC Sunday at 8 p.m.: 1.38 million viewers
4. L'Échappée on TVA Monday at 8 p.m..: 1.30 million viewers
5. Boomerang on TVA Monday at 7:30 p.m.: 1.20 million viewers
Toronto/Hamilton
1. The Big Bang Theory on CTV Monday at 8 p.m.: 617,000 viewers
2. The Good Doctor on CTV Monday at 10:00 p.m.: 583,000 viewers
3. Hockey Night in Canada on CBC Saturday at 7:16 p.m.: 485,000 viewers
4. Bull on Global Tuesday at 9 p.m.: 429,000 viewers
5. Long Time Running on CTV Friday at 8:00 p.m.: 397,000 viewers
Edmonton
1. The Big Bang Theory on CTV Monday at 9 p.m.: 177,000 viewers
2. Hockey on Sportsnet Saturday at 11:11 a.m.: 111,000 viewers
3. Star Trek: Discovery on Space Sunday at 8 p.m.: 101,000 viewers
4. CTV Civic Election on CTV Monday at 8 p.m.: 98,000 viewers
5. The Good Doctor on CTV Monday at 7 p.m.: 97,000 viewers
Calgary
1. The Big Bang Theory on CTV Calgary Monday at 9 p.m.: 203,000 viewers
2. CTV Civic Election on CTV Monday at 8 p.m.: 146,000 viewers
3. The Good Doctor on CTV Monday at 7:00 p.m.: 124,000 viewers
4. NCIS on Global Thursday at 9 p.m.: 118,000 viewers
5. The Gifted on CTV Monday at 10 p.m.: 105,000 viewers
Vancouver/Victoria
1. The Good Doctor on CTV Monday at 10:01 p.m.: 197,000 viewers
2. NCIS on Global Tuesday at 8:00: 186,000 viewers
3. The Big Bang Theory on CTV Monday at 8:00 p.m.: 179,000 viewers
4. Bull on Global Tuesday at 9:00 p.m.: 172,000 viewers
5. Survivor on Global Wednesday at 8 p.m.: 158,000 viewers