Ford stays on top: Media Monitors
The auto industry once again dominated as Toronto's biggest category buyer, while the TV category was back on top in Montreal.
The Ford Dealers Association may have stayed on top of the Media Monitors charts for the week of Nov. 13 to 19, but Toronto's top 10 saw major shifts in radio ad spending.
Following Ford, the second-highest spender was McDonald's, which rose from #31 the previous week. That was followed by the Acura Dealers Association (new to the chart). Rounding out the top five were HP (down from #2 the previous week) and another new entrant, Coors Light.
Other new entrants to the list were the LCBO, Mazda, Cadillac and Walmart.
Car and truck dealer associations remained the highest category buyer, doubling its spots from last week with nearly 4,000 ads.
There was notably less movement in the Montreal market, with CTV staying put in the top spot for another week and only one new entrant in the top 10. CTV was followed by Brault & Martineau, in #2 for the third week in a row. Hudson's Bay took #3 (up from #29) while Shoppers Drug Mart held strong at #4. The only new entrant was the American Music Awards, at #5.
For categories, television and cable fell out of the #1 spot and quick service restaurants took the top, purchasing 389 spots.
Toronto, by brand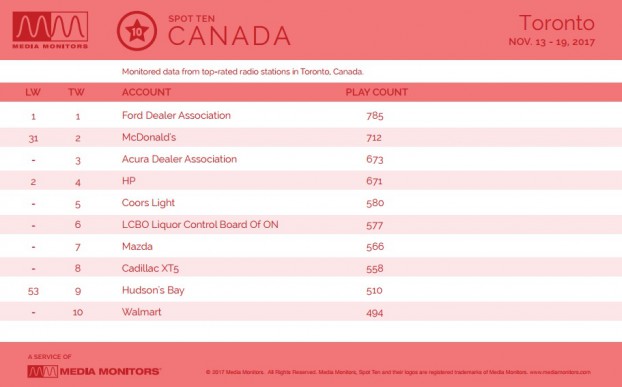 Toronto, by category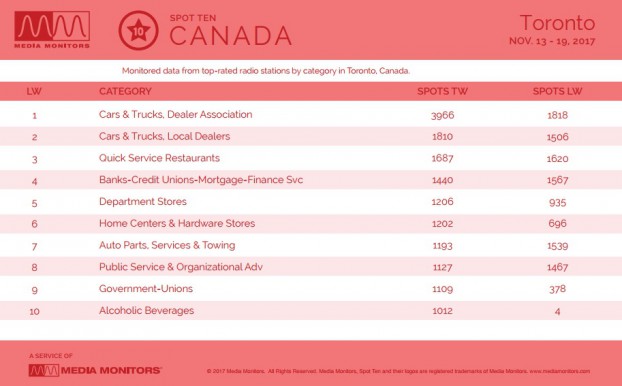 Montreal, by brand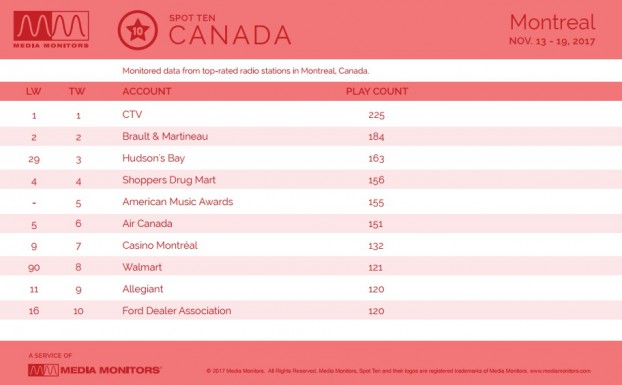 Montreal, by category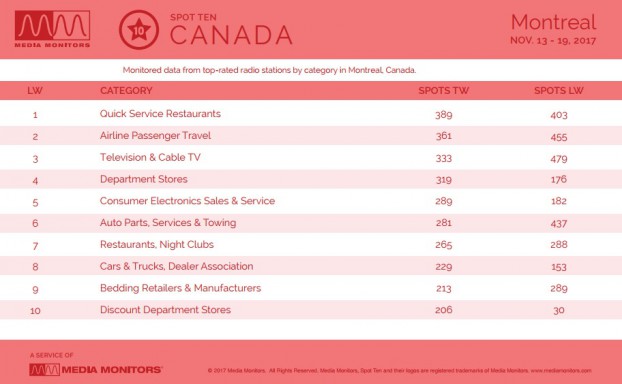 Photo: Unsplash