ICYMI: Spotify uses Canadian data for new campaign
Plus, a new partnership for Freckle IOT matching location data to cross-device tracking.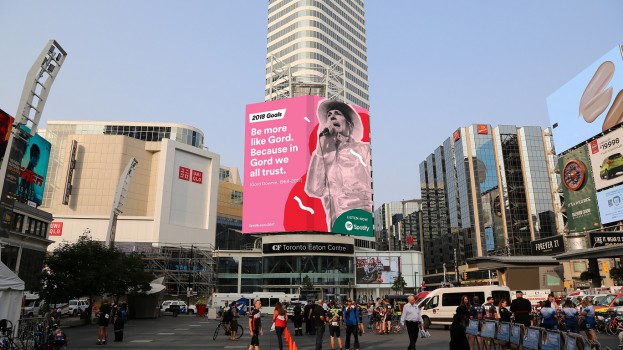 Spotify leverages data in new OOH campaign
As part of Spotify's New Year's Resolution-themed campaign, the audio streamer is once again showcasing the depth of its listener data to create creative tailored to its environment. The Canadian arm of the campaign, which went live this week, will be communicated through outdoor ads in Toronto's Yonge-Dundas Square and major subway stations. Canadian resolutions include:
"Work on 'The Shape of You' until at least Jan. 31st," referencing the Ed Sheeran track that's been streamed more than three million times in Toronto alone
"Be more like Gord," a memorial to the beloved Tragically Hip frontman
"Be proud of Canadaland. Luckily our U.S. neighbours make it easy," promoting Jesse Brown's popular podcast (Spotify's most-streamed news podcast in Canada).
The campaign was developed and executed internally.
CBC partners with Cineplex for Murdoch special
CBC has partnered with Cineplex Events to deliver a special live screening of Murdoch Mysteries' third annual holiday special. On Dec. 16, select Cineplex theatres across Canada in cities including Toronto, Vancouver, Calgary, Ottawa, Halifax and others, will host free screenings of the special along with additional behind-the-scenes footage with the cast. Advanced tickets are currently available online.
Freckle adds to data offering
Offline attribution company Freckle IOT has partnered with New York-based marketing tech company Tapad. Freckle will use the Tapad Device Graph to supplement its data set, which it says will offer brands more granular attribution data. The offering is available to all of Freckle's global clients. The collaboration combines Freckle's location data with Tapad's cross-device technology, using first-party data to match media spend to in-store visits.