Spotted! Brands travel to Toronto for NHL centennial
For Reese's and Tim Horton's, pairing with hockey is nothing new, but Mitsubishi used the experience as an opportunity to try something new.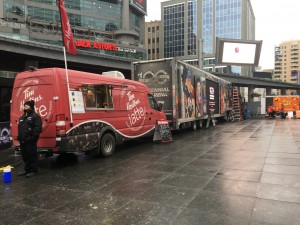 The National Hockey League has been celebrating its centennial year with a mobile NHL Fan Arena that's made more than 30 stops across its team markets. It's been engaging with fans through a memorabilia museum, a Zamboni VR game, charity youth hockey games and photo opps with the Stanley Cup itself.
The tour's penultimate stop on Dec. 19 was in Toronto, where the league set up the Fan Arena in the city's Yonge-Dundas Square.
Joining the league on every Canadian leg of the tour were three brands: Reese's, Tim Hortons and Mitsubishi Electric. Mitsubishi provided hockey fans with a heated tent on chilly days, while Reese's kept everyone stocked up on sweet treats and Tim's transformed into a trendy food truck, giving away free coffees, hot chocolates and its new lattés.
But a new brand arrived on the scene for a Toronto-specific activation – Visit Stockholm – which promoted the Swedish city as a tourist destination with an experiential display and a game of tabletop hockey.
For brands such as Tim's and Reese's, aligning with sports is nothing new. Reese's partnered with the NHL in 2016 on the "For the Love of the Cup" contest and multiplatform campaign. Tim Hortons has sponsored hockey programming such as Rogers' Hometown Hockey and the World Cup of Hockey (plus, who could forget the hockey-themed tear-jerker ad, "Proud Fathers?").
But for Mitsubishi Electric, the NHL partnership represented an opportunity to pivot more toward consumer-focused marketing (as opposed to marketing directly to distributors and dealers). Dermot McMorrow, GM of Mistibushi's HVAC division, told MiC the universality of hockey gave the brand a good opportunity to reach a diverse audience from home owners to business operators.
Tim Horton's worked with Rhoddy on the partnership, Reese's with Mosaic and Mitsubishi Electric with Match Marketing.
The event coincided with the Leafs' afternoon home game against the Carolina Hurricanes (which the Leafs won handily 8 – 1).