Sunwing returns to the top: Media Monitors
Meanwhile, in Montreal, CTV continued to reign as the most prolific radio buyer.
Sunwing Vacations has returned to the top of the Media Monitors charts. The travel company purchased the most radio advertising in Toronto for the week of Jan. 1 to 7.
The previous week's first-place finisher, Rogers, slide to #2.
Following Rogers was another new entrant to the list, the Toronto International Boat Show. Sleep Country Canada made the leap to #12 from #4, while the Ford Dealers Association rose to #5 from #7. Other new entrants included Wendy's (#6) and Planet Fitness (#8).
Sunwing's buy helped travel services become the top category buyer for the week; overall advertisers in the category purchased 2,422 spots (up from 861).
In Montreal, CTV once again took the top of the charts. The Bell Media network has been the most prolific buyer in Montreal's radio market most weeks since September.
Following CTV was Dormez-Vous, up from #5.
Brault & Martineau made the small jump to #3 from #9, Gibby's made a larger jump to #4 from #38 and CraveTV slid slightly to #5 from #3.
New entrants to Montreal's charts were Électroménagers Longueuil (#8) and Air Canada (#10).
Toronto, by advertiser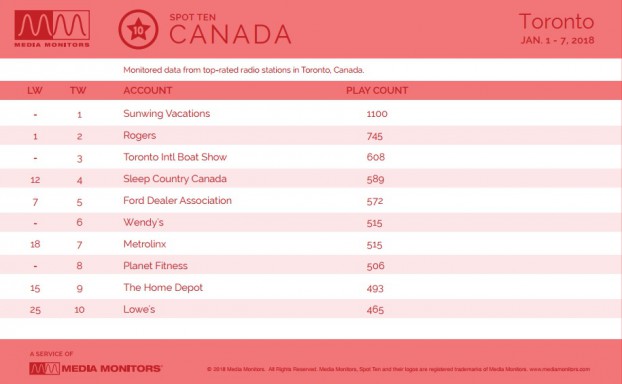 Toronto, by category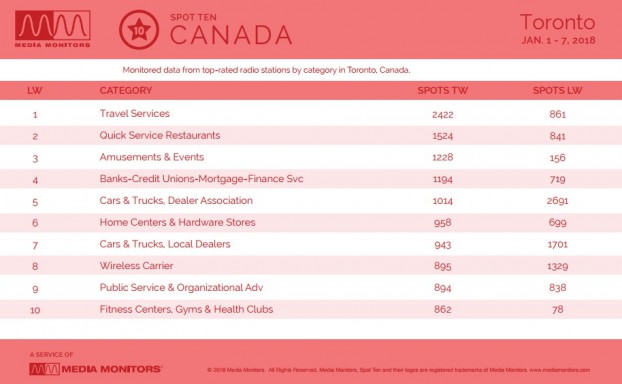 Montreal, by advertiser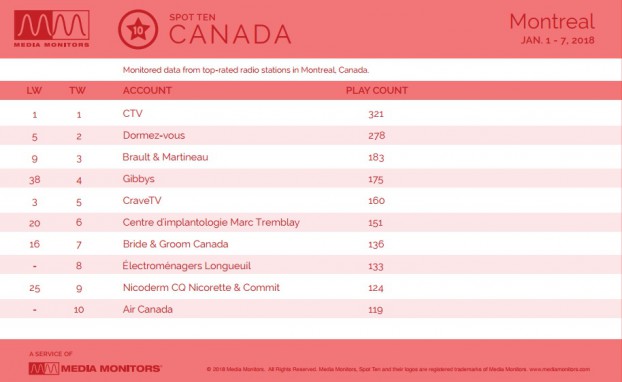 Montreal, by category