Your Morning gets gamified
Bell Media's morning show partners with Play The Future to tap mobile audiences.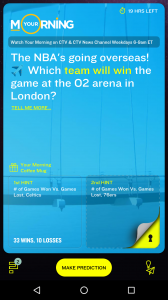 CTV has signed on as the first national television partner for Play the Future, a brand-backed mobile game launched by former media and marketing execs.
CTV's morning show Your Morning has signed on to have its news and content gamified with the app, which lets its users predict the outcomes of real-world events. Among Wednesday's questions, for example, is "The NBA's going overseas. Which team will win the game at O2 arena in London?" The answer will be revealed after Your Morning reports on the game during its Friday broadcast.
The question and each piece of Your Morning content is prefaced by a call-to-action directing viewers to the CTV broadcast. Merchandise from the show is offered as one of the game's prizes.
Play the Future is the brainchild of former Just For Laughs CMO and president Andy Nulman and former Campbell's Soup president Philip Donne. In the face of growing ad blocker use and concern about click farms, Nulman, Donne and partners Parisa Foster and Rory Olson built the app as a brand-safe content venue for advertisers.
The app is supported through branded questions as opposed to display ads. Nulman told MiC that he has been focusing on building relationships in the gaming and media verticals over the last year.
The partnership puts Your Morning content in the app for a three-month period.