Google unveils AMP Stories with publisher partners
Publishers are testing the (so far) ad-free format that competes with Snapchat and Instagram's products.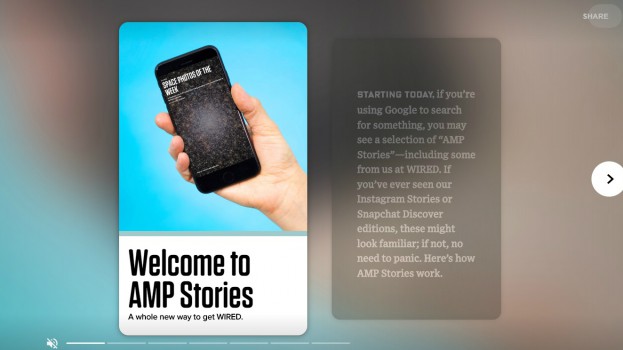 Google is following in the footsteps of Snap and Instagram with the release of Amp Stories, its new swipe-able content format unveiled Tuesday.
Snapchat's swipe-able "My Story" format was a game changer in 2013, allowing users to chain images and videos together for users to flip through in order. It was popular enough to drive competitor Facebook to create similar a product for its Instagram platform in 2016.
Just like its predecessors, Amp Stories are composed of panels of text, images or video. Based on the Google AMP mobile page technology, they are designed to load faster than normal on mobile phones in a bid to engage with an increasingly smartphone-centred audience.
The format is being live-tested by several U.S. publishing partners, including CNN, Conde Nast, Hearst, Mashable, Meredith and The Washington Post, some of which covered Amp Stories' launch with content utilizing the technology. However, the technology is open source and available to other developers as well.
Rudy Galfi, product manager at Google, said in a blog post that the the tool is positioned as one ideal for news and content distribution. "AMP stories aim to make the production of stories as easy as possible from a technical perspective," Galfi said. "The format comes with preset but flexible layout templates, standardized UI controls, and components for sharing and adding follow-on content."
Related
· Snap's revenue soars in Q4
· Instagram gives brands longer Stories
However, there is currently no way to monetize these Stories with ad products. Google has not specified a timeline for ad integration or Amp Stories' wider rollout beyond its initial test partners.