Astral launches new digital highway boards in Toronto
The two new OOH faces are located near the city's entertainment district along the Gardiner Expressway.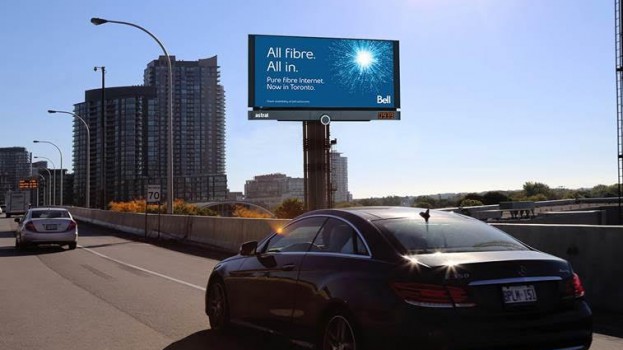 A new set of digital highway boards landed in Toronto this week thanks to Astral, a division of Bell Media.
But, according to Debbie Drutz, Astral's VP of sales, it's not just the size of the boards that makes them a hot commodity for advertisers, but its Gardiner Expressway location, just west of Spadina.
"Think about all the entertaining that happens whether it's the ACC, other sports venues, sports games or any big events that are happening at any of the key hotels downtown," says Drutz of the area, which garners an average of 116,000 daily impressions, according to a statement released by Astral.
Located near the Exhibition Place, BMO Field, the Direct Energy Centre, the Canadian National Exhibition, and Ontario Place, Drutz calls the boards "a gateway to and from the downtown core, onto the highways, [and] off to the major arteries like the DVP and 427."
The boards were acquired by the network a year-and-a-half ago, but were only recently converted into digital faces. According to Drutz, digital boards allow clients to use location, weather, and event data to inspire creative, "so if there's a game happening at the ACC, we can actually post the scores in real-time about what's happening in the game," she says.
Measuring 56 x 28 feet, the boards are a single structure with two faces — one side facing east and the other facing west — and can fit 60 seconds of continuous advertising. That's six advertisers shown on a 10-second loop each before the rotation begins again. Chrysler, a longtime advertiser with Astral, is currently rotating its advertising on one of the boards.
The new OOH adds to Astral's more than 46 large digital faces in Toronto and 143 across Toronto, Montreal, Vancouver, Calgary, Edmonton, Winnipeg.
Correction: This story originally stated that Astral's new digital highway boards were the largest in Canada, when in fact there are boards of equal size. This story has been updated to reflect this.