Boston Pizza goes experiential for Jets partnership
After earning its title as the Winnipeg Jets' "official headquarters," Boston Pizza invested in a literal bandwagon.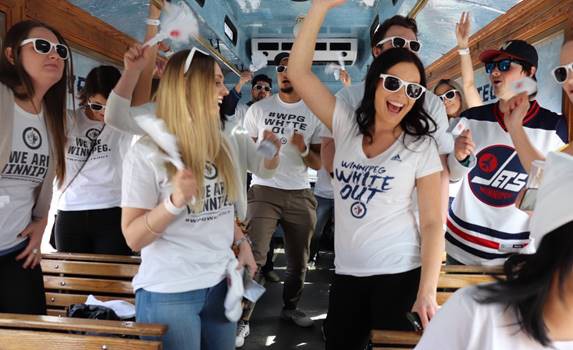 There's only one Canadian team left in the NHL Stanley Cup Playoffs, so can you blame people for jumping on the bandwagon? Boston Pizza's recent campaign involved fans literally jumping on a wagon.
This year was the casual dining restaurant's first as the "official headquarters" of Winnipeg Jets fans. To promote the partnership, Boston Pizza and the Winnipeg Jets rolled into Winnipeg on April 11 with a fully decorated vintage trolley, transporting fans to Bell MTS Place for the puck drop in game one. The bus featured a DJ, Boston Pizza samples, branded swag and an appearance from Jets alumni Thomas Steen.
James Kawalecki, director of marketing for Boston Pizza, said the fan wagon experience is a first for Boston Pizza. Although it's had a relationship with the Jets since the team's relocation to Winnipeg in 2011, he said the "official headquarters" designation is a new aspect of the sponsorship, and the wagon helps to draw attention to Boston Pizza's restaurants and invite customers in.
"It's our way of saying, 'Come and join us in-store,'" he said. "The feel that we convey with our sports bars is that it's very free from pretense, you can cheer on your team, yell at the ref, be with like-minded people. With the fan bus, we're definitely expanding that into a different space."
The activation was coordinated by FleishmanHillard HighRoad (the two agencies announced a merger last fall) and resulted in just over five million earned media impressions (traditional and social) at press time.
Despite the buzz, Kawalecki said there was no paid media behind the activation. He said the impressions were almost even with standard social campaigns promoting its UFC partnerships in Toronto.
"Considering that's a much bigger market [than Winnipeg], it's pretty impressive," he said.
Kawalecki also noted that engagement with the brand was consistent throughout the entire first round of the playoffs.
"We didn't just surge in game one and drop off the radar," he said. "We sustained it through to game five."
Aside from the fan wagon, the partnership is being promoted through in-store activations, in-arena advertising, broadcast rights and social media.
A representative for Boston Pizza has confirmed that the activation will continue for round two of the playoffs.