ICYMI: Facebook adds AR games, APTN unveils fall lineup
Plus, the iHeartRadio MMVAs performer lineup expands.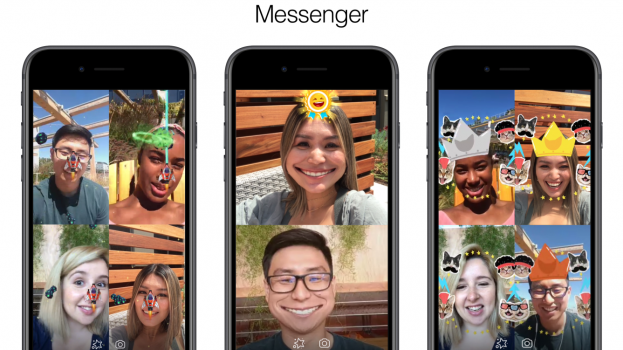 Facebook adds AR games
Facebook has introduced two new interactive games on its Messenger platform that use its AR filter technology. This is the first time Messenger's in-app games have incorporated the AI face filters. The games, which can be played in real-time during video chats with friends, are "Don't Smile," which uses the AR tech to detect smiles and reward the person who doesn't crack, and "Asteroids Attack," which has users command a spaceship using their nose. According to Facebook, the company saw 17 billion video chats take place in 2017, twice as many as in 2016.
APTN unveils fall line-up
APTN has announced a number of new and returning series for its upcoming 2018 lineup. Miniseries First Contact (3 x 60 minutes) follows six non-Indigenous Canadians with strong opinions about Indigenous Peoples on a 28-day journey across various Indigenous communities. The docuseries will premiere Sept. 15. Docuseries Future History (13 x 30 minutes), hosted by Sarain Fox and Kris Nahrgang, will premiere Nov. 12. Written, directed and produced by Jennifer Podemski, the series celebrates the reclamation of Indigenous knowledge. Docuseries Taken (13 x 30 minutes), a co-commission with CBC, will return for a third season Sept. 28. The series focuses on solving the mysteries behind Canada's missing and murdered Indigenous women and girls. Meanwhile, season five of Longmire and season six of Wentworth will also air on the broadcaster, starting in October (premiere date TBD).
Also coming are two French-language docuseries: Première Ligne (13 x 30 minutes) premieres Sept. 10 and focuses on Indigenous health and first aid professionals, and Princesses (13 x 30 minutes) explores Indigenous beauty standards and trends. New Inuktitut-language culinary series Nunavummi Mamarijavut (13 x 30 minutes) is set for a Sept. 3 debut, and season three of Moosemeat & Marmalade will air in Cree and Mohawk Girls season 5 will air in Mohawk.
Read more on this story in Playback
More performers added to iHeartRadio MMVAs
Bell Media has announced a lengthy list of performers, presenters and hosts for the upcoming iHeartRadio MMVAs, which will air Aug. 26. E-Talk reporter Tyrone Edwards has been confirmed as the host of the show, alongside previously announced host Awkwafina. E-Talk reporter Chloe Wilde and iHeartRadio personality Patrick Langlois will co-host the pre-event red carpet.
Performers announced include Bebe Rexha, Brett Kissel, Bulow and the Beaches. Also hitting the stage for a "throwback" performance is '90s pop group 98 Degrees. Newly announced presenters include X-Men: Apocalypse star Alexandra Shipp, musical theatre star Ashlee Simpson-Ross, This is Us actor Chrissy Metz, Arrow actor Colton Haynes, pro skier Gus Kenworthy and reality star Kristin Cavallari. Performers already announced include Five Seconds of Summer, Alessia Cara, Halsey, Kris Wu, Marshmello ft. Anne-Marie, Meghan Trainor and Shawn Mendes.