Rogers leans into experiential for IgniteTV
While TV is necessary for brand messaging, VP Drew Stevenson said getting the product in people's hands – while promoting Rogers' fall programming – is a must for lead generation.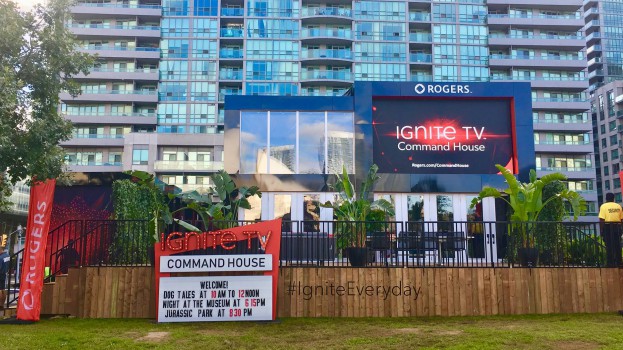 Earlier this summer, Rogers unveiled its new, long-anticipated IPTV product, IgniteTV.
The new system digitally aggregates users' cable TV libraries with the libraries to subscription services they may also have, such as Netflix, and makes them available for access through a voice-controlled remote (for example, if a person searches for Brooklyn 99, they would find access to all the places they're able to stream it, view a recent episode of or purchase transactionally). It also offers features such as downloading episodes for offline consumption (such as on airplanes).
While Ignite was initially promoted through a TV and digital video buy – with creative featuring superstars such as Lucy Liu and Gordon Ramsey – the strategy has since turned to experiential. After several weeks of small installations at events such as Toronto's Taste of the Danforth and the Canadian National Exhibition, where brand ambassadors would allow festival goers to try the new product firsthand, it went all-out for the recent long weekend FanExpo event, installing a standalone "command house" styled after all of the themes of the new product.
The house, located across the street from the Metro Toronto Convention Centre where the indoor portion of the event was held, features a living room setup with television sets displaying product demos. Upstairs in the house were a makeshift ski lift and airplane seats to demonstrate the offline feature. Other parts of the house included a sports-themed den with a replica of the set from Sportsnet's Tim and Sid to promote the Ignite sports app and a Spongebob Squarepants-themed children's play area to promote the kids app.
Drew Stevenson, VP of Rogers brand, told MiC that although the video buy was essential for getting out the brand messaging of "Now you're in command," he said experiential is necessary for a product such as this. "We want to get that product into as many people's hands as possible, because it speaks for itself once you actually use it," he said. "Something like this allows people to spend some time with it, and we can tie some lead generation into it."
Most of the action at FanExpo occurs within the walls of the Convention Centre, so a booth on the convention centre floor promoting a pop culture mainstay recently acquired by Rogers Media – The Simpsons – was installed. The booth allowed attendees to strike a photo on the iconic Simpsons couch and take a digital copy of the photo away with them. The booth also promoted the Command House and its various events, urging people to take a break from the busy hall and explore the house. Several events throughout the weekend also featured talent from Rogers' conventional and specialty series including Kim Coates (Bad Blood) and Josh Dallas (Manifest), as well as Aaron Sanchez and other Blue Jays alumni.
Stevenson said that this way, the FanExpo activation also served double duty for Rogers, promoting both Rogers Media's Fall 2018 TV lineup and the new Ignite product.
"We call this a 'one-Rogers initiative,' where we're able to promote a new product together with the media business, together with all our assets," said Stevenson, adding that it's rare that Rogers promotes both its media and it's cable products through a single buy or activation.
Rogers worked with both OMD and Leapfrog on the media buy, while collaborating with experiential agency Mosaic for the Command House activation and BBDO on the creative component.