St. Joseph dives deeper into AR with Mitsubishi
The media company paired with Mitsubishi to create its first 'object-based' AR project.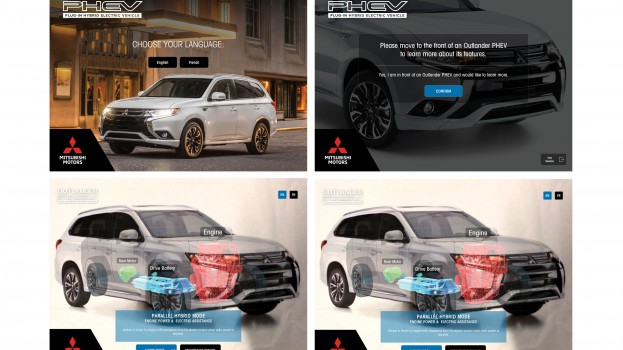 St. Joseph Communications' (SJC) interactive team has taken the idea to use augmented reality up a notch with its latest app developed for Mitsubishi. The goal is to help Mitsubishi Motors Canada drive up sales for its SUV-sized plug-in hybrid electric, the 2018 Outlander PHEV.
A standalone app created solely for the Japanese auto dealer, the projected use is for the salesperson to use the app while a potential buyer is in the showroom. It is also available for download through iOS and Android app stores and can be used at Mitsubishi event such as public showcases.
Yvette Elliott, group director of sales at St. Joseph told MiC that although this is not St. Joseph's first time creating augmented reality for clients, this is the first time it has experimented with "object-based" AR experience as opposed to "image-based."
In a nutshell, the app overlays visual animation onto the actual vehicle, more like creating a 3D hologram effect. "Image-based" AR is more rooted in adding two-dimensional visual overlays to an image. The app activates once a salesperson hovers their tablet over a visible start position, such as a wheel, which locks it into place. The viewer can then "walk around" the vehicle from different positions through hyper-accurate tracking and registration coding techniques created by St. Joseph's interactive design and development team.
"We wanted the AR app to be customer-focused, delivered by the salesperson and encouraging potential buyers to have interest in the vehicle," said Elliott.
Elliot said St. Joseph has received increasing interest from other clients on AR and tech-related projects.
Don Ulmer, senior manager of product planning for Mitsubishi Motors Sales of Canada said, "Up until now, the sales person had to verbally explain to the customer how the system works, and for somebody who is maybe not as knowledgeable about technological things, it may be difficult to grasp." The activation is part of a bid to engage more millennials in the buying process, according to the company.
The app will hit showroom floors at Mitsubishi locations across Canada in the coming months.
Media buyers have been watching the AR market increasingly in the past two years, as apps such as Snapchat bring AR to the masses. The International Data Corporation estimated that by 2021, Canada's virtual and augmented reality market will be worth $7.1 billion. Mitsubishi isn't the first auto brand to create consumer-level AR; earlier this year Ford teamed with Snapchat to create a virtual tour for Canadian customers.