Canadian Premier League signs Macron as official sponsor
The Italian sporting apparel company will design gear for all CPL clubs as part of its first sponsorship deal in Canada.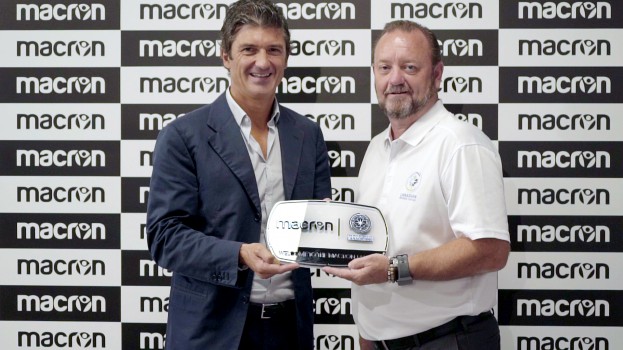 Canadian Premier League (CPL) is set to debut in April 2019, and the highly anticipated professional soccer organization has just inked a long-term deal with Italian sport apparel company Macron as its official league kit (apparel) provider.
The deal was negotiated by the Canadian Soccer Business (CSB), the official sponsorship unit of Canada Soccer. The sponsorship includes Macron supplying custom-designed teamwear and training gear for clubs such as the HFX Wanderers FC, York 9 FC, Forge FC, Valour FC, FC Edmonton, Cavalry FC and Pacific FC squad, as well as coaching staff league-wide.
While Macron is a well-known brand name in the European market, this sponsorship will allow the brand to expand its presence in North America.
CPL commissioner, David Clanachan, told MiC this is Macron's "most significant investment to date."
"The impact this sponsorship will have on our brand is that we get exposure and visibility in North America on such a large scale," said Roberto Casolari, sports marketing director of Macron. Although the brand has some stores in Toronto and Vancouver, Casolari said this is the brand's first Canadian sponsorship deal.
Casolari did not reveal the value or terms of the CPL sponsorship but said the long-term goal is to increase the brand's profile in Canada and eventually "open more specialty Macron stores in the country and increase sales to non-professional and grassroots clubs."
The brand, which works with more than 60 clubs and federations worldwide, has also served as a sponsor for Phoenix Rising FC and Miami FC. According to Macron, 90% of its sponsorship activities are concentrated around European sports; 10% of its activities are outside of Europe.
Scott Mitchell, CEO of CSB, said there will be"significant media buys closer to the spring 2019″ as the soccer season approaches.
This sponsorship deal is being promoted on digital platforms, with a focus on the two companies' respective social media channels.
Earlier this year, CSB chose ThePostGame to take on the task of selling global media and broadcast rights for CPL.