RBC returns to the training ground
This year's program will include more tour stops and a final competition in Calgary, allowing for more potential content.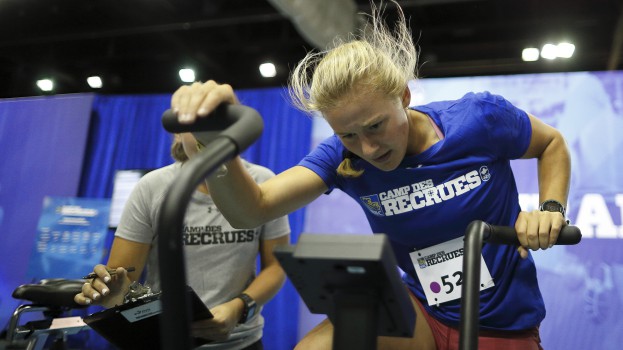 One of the most well-known Olympic-related content programs in Canada is set to return.
RBC announced that its Training Ground program, which it developed in partnership with various Olympic organizations including the Canadian Olympic Committee, as well as CBC Sports, will return for a fourth year along with an expanded mandate.
The program, which sees RBC host a number of public events throughout the country for athletes age 14 to 25 to compete for funding, will now hit 35 communities overall – a far cry from the four it started with prior to the Rio Olympic Games in 2014. This year will also mark the first time RBC travels to the country's Territories, with an event in the Yukon.
In addition, RBC will host its first-ever National Final in Calgary, which will bring together the top 100 athletes it meets throughout the tour. Following the finals, up to 30 athletes will be selected as RBC's Future Olympians and receive funding and resources to potentially compete.
To date, the program has tested 5,500 athletes at 71 free local events in 35 different communities.
Shannon Cole, senior director of brand marketing and RBC, tells MiC the expansion will majorly up RBC's potential for content production.
"Anytime you work on a multi-year program, you want to make sure you're doing bigger things every year. One of the things we're doing is ensuring broader reach for the program itself. Because there will be the final, we feel that will naturally lend itself to more content."
She's also hoping to add a richer multi-platform experience for viewers such as live look-ins or doing more detailed profiles on the athletes. No linear or digital/social broadcast details have been announced yet.
Although she says it's natural that any brand would "want to move the needle on lower-funnel metrics" through programs like these, the main goal is to build brand affinity and cement the brand in Canadians' minds with a particular image. "We want customers and non-customers to view us as the Olympic Bank," she says. "I think so far this has done great things for our brand, continuing to allow us to show up as an Olympic sponsor."
RBC continues to work with Mosaic on the development of the program alongside the CBC, the Canadian Olympic Committee and the Canadian Olympic Foundation.