Torstar CEO says budget lacks 'real measures' to help journalism
The feds' trio of tax measures in support of Canadian media organizations did not impress John Boynton.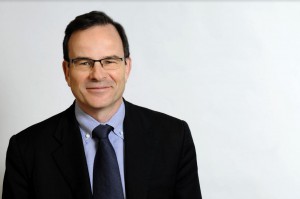 The chief exec of Torstar says he's "disappointed" with the feds' new tax measures in support of Canadian journalism organizations that were announced Tuesday.
As part of Budget 2019 the federal government announced three tax measures for both consumers and creators of Canadian journalism, including tax credits for digital news subscriptions and credits on salaries to newsroom employees.
Media organizations across Canada have long been calling on the government to provide more funding for original Canadian journalism. In early 2017, the Public Policy Forum released a report called The Shattered Mirror looking at the state of the industry and making several recommendations on how the government could assist the struggling sector.
But John Boynton, president and CEO of Torstar, says the measures need to go further to help struggling media organizations.
"While we appreciate the greater detail on the government's commitments made in its fall economic statement, we are very disappointed there will be no relief coming to journalism companies in 2019 despite the ongoing financial pressures on the industry," said Boynton in an e-mailed statement. "It is getting tougher and tougher financially for the media in Canada these days, but the government keeps putting off the implementation of any real measures to help the industry."
Meanwhile, out in Winnipeg, Bob Cox, the publisher of the Winnipeg Free Press and the chair of News Media Canada, was pleased with the feds budget offering for Canadian journalism.
"Generally I'm happy it's a good program it's going to help a lot of newsrooms across the country. It's a significant amount of money," Cox told MiC. "It's a great help and I think it will help do what it said it would do. It will help preserve newsrooms so they can keep reporting on their communities."
The Free Press, which has a readership of about 418,000 per week, currently has a newsroom staff of about 70. Cox says thanks to the tax measures the paper will be hiring a few beat reporters soon.
The first tax measure allows individuals to claim up to $500 per year "in costs paid towards eligible digital subscriptions in a taxation year, for a maximum tax credit of $75 annually," according to Budget 2019 on page 376.
The second tax measure allows qualified Canadian journalism organizations a "25-per-cent refundable tax credit on salary or wages paid to eligible newsroom employees," with a cap of $55,000 per employee per year, according to the budget.
The third tax measure lets qualified organizations to apply to be a "qualified donees" that "operate for some broad public purpose."  Meaning those organizations that qualify may be eligible to "claim the charitable donation tax credit (for individuals) or deduction for donations (corporations) for donations to qualified donees," according to the budget.
Requests for comment from executives at The Globe and Mail and Postmedia were not immediately returned Wednesday morning.
Last November, the feds announced a $595-million package over the next five years "[to] protect the vital role that independent news media play in our democracy and in our communities," according to Finance Minister Bill Morneau, who spoke at the House of Commons on Nov. 21. And in October 2018, the government announced a $14.5 million investment toward community-based, minority language media. The details of the plan, announced Oct. 4, included $4.5 million over five years to create 100 internships, and $10 million toward the Minority Media Fund.