Spotted! Montreal showcases a different kind of car
This was no glamorous Auto Show.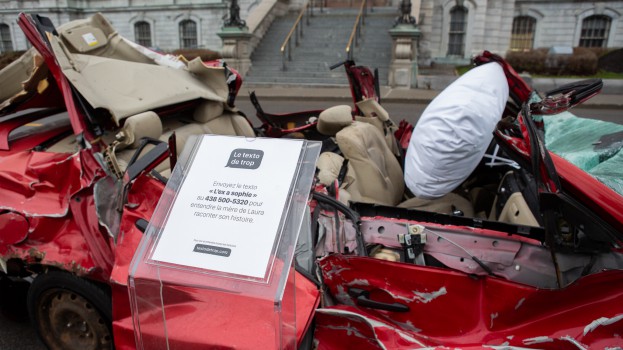 Montreal is known for its love of cars. From the long-running Montreal Auto Show to countless classic car shows, the city has a reputation for fascinating car displays.
But one live expo last week had a bigger goal than just generating interest in the newest model. Impactful Reminder served as a life-scale depiction of the gritty aftermath of a crash caused by texting and driving.
The dramatic scene consisted of three totalled vehicles parked in succession along Rue Notre Dame. The initiative, which saw the City of Montreal working with Sid Lee, was displayed outside Place Jacques-Cartier last week, stopping people in their tracks.
The concept was to take a still object and transform it into a living thing, David Allard, senior copywriter at Sid Lee tells MiC.
"The whole idea is the impact," he explains, both physical and psychological. "It's creating emotional momentum. We're using that."
The exhibit examines the effects of what an SAAQ study found: one in five drivers admits to writing or reading texts while behind the wheel.
But digging further, the team discovered nearly 98% of the population is against texting and driving. Allard notes that it's "kind of a disconnect."
Built using photos provided by three crash victims whose accidents took place on Quebec roads, the vehicles were altered by a special effects team to precisely replicate the damage inflicted in each collision.
"We took care to stay away from the big drama of blood that sometimes on TV we can see," Allard says. "The visual consequences were strong enough."
An interactive element allows visitors to – ironically – text the number accompanying each car to read the stories behind the wreck.
The activation is part of a broader campaign by the city, part of its Vision Zero action plan. Vision Zero is an approach borrowed from the Swiss to combat the fact that people are killed or seriously injured while travelling a city's road network. Beyond last week's experiential activation, the campaign is being promoted largely through social media.
Through the activation, viewers were also pushed to visit textodetrop.com, which shows people how to activate a setting that turns off notification while a car is in motion and generates an auto-reply. The site also contains instructions on how to personalize the message, along with videos from families impacted by distracted driving.