Uber Eats expands on its basketball strategy
A new partnership with TSN will see the meal delivery app capitalize on the country's growing appetite for basketball.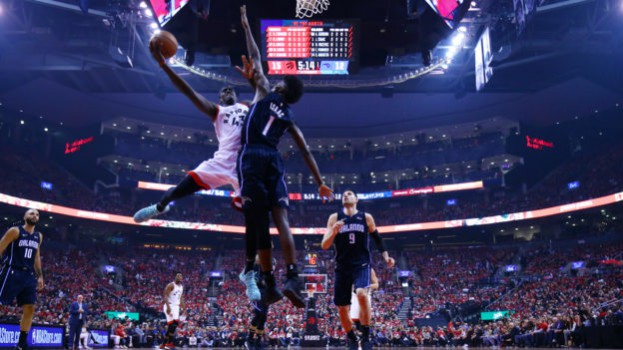 Only a few months after Uber Eats paired with MLSE in an effort to reach a broader audience, it's upped its ad and sponsorship spend in the basketball space.
The meal delivery service has inked a multi-platform deal with Bell Media's TSN in order to capitalize on TSN's basketball coverage, timed with the start of the NBA Playoffs.
The partnership officially tipped-off with the start of the Playoffs, with Uber Eats sponsoring the recurring "Deliveries of the Game" segment, which highlights the best play of each Toronto Raptors playoff game broadcast on TSN.
Jessica Van Rooyen, head of marketing for Uber Eats Canada, says the partnership with TSN covers both media integration and content development. She adds that the partnership is part of an effort to emphasize Uber Eats' "role in the game day experience."
Besides the segment, additional features include a custom 30-second commercial featuring TSN's Kate Beirness that will air on both digital and social, an experiential presence at Maple Leaf Square, and an Uber Eats-sponsored pre-game countdown clock on TSN.
The partnership was brokered by Mediacom Sport and Entertainment, the GroupM shop's sports marketing and sponsorship division. Creative agency Behaviour also worked with Uber Eats, MLSE and TSN.
Uber Eats signed on as an official sponsor of all six MLSE teams, including the Raptors, last year. Besides showcasing the "complementary" nature of both Uber Eats and the Uber ridesharing app with professional sports games, marketing head Lindsay Liptok said the effort also served to capture a wider demographic audience while reinforcing its brand with existing fans.
Indeed, basketball boasts a mainstream and relatively diverse audience; according to a recent study by Vivintel, 21% of Canadians have watched a basketball game in the last month and 9% of Canadians are considered basketball "superfans" (committed to watching many games and following teams). During the regular season, NBA Canada saw a surge in viewership, with this past season being the most-watched in NBA history in terms of AMA (up 29% year-over-year on Sportsnet and TSN). AMA peaked on Feb. 22, with Toronto's win against the San Antonio Spurs taking an average of 710,000 on TSN. A 2017 study by Solutions Research Group also found that basketball is very popular among Canadian newcomers, with 29% of respondents saying they considered themselves fans.