ICYMI: TLN presents Italian film fest, Corner Gas Animated returns
Plus, veteran broadcaster Anna Maria Tremonti leaves The Current after nearly two decades to produce, host original CBC podcasts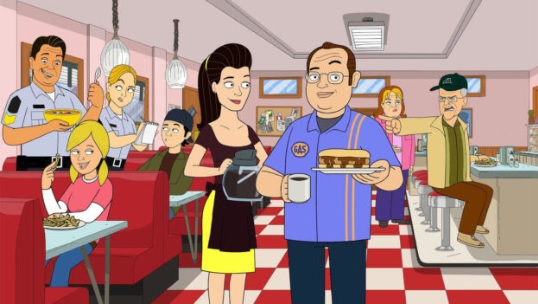 'From Italy with Love'
English specialty channel TLN is bringing Italy direct to the comfort of your own home with a specially curated month-long Italian film festival From Italy With Love. Each weekend from June 1 to June 30, the biggest names in Italian cinema will hit the small screen in contemporary English subtitled flicks during the exclusive event featuring stars like Fabrio De Luigi, Claudia Cardinale and Margherita Buy.
Back to Dog River on Canada Day
What could be more Canuck on Canada Day? Corner Gas Animated returns for its second season, July 1 kicking off with back-to-back episodes on The Comedy Network. The new 11-episode season takes viewers back to the fictional small town of Dog River with cameos from some big names, including: Prime Minister Justin Trudeau, Chris Hadfield, Russell Peters, Jann Arden, Harley Morenstein of Epic Mealtime, as well as special guest star Michael J. Fox. In its spring 2018 debut, the first season of Corner Gas Animated  was the most-watched series premiere in Comedy Network history and remains its #1 original series.
CBC veteran switches up audio formats
Anna Maria Tremonti, the 17-year-long veteran of CBC Radio's The Current is leaving her host duties on the weekday current affairs show to move into the podcast world. Tremonti, the sole host of The Current since it launched in 2002, will take on both producer and host roles with two new, original podcasts under the CBC banner. One show will take an in-depth, sit-down interview approach with a variety of guests and the other podcast's format is slated to be announced later this year. Tremonti's last day on air as The Current host will be June 21.