Baskin-Robbins turns its media plan Upside Down
The ice cream chain utilized TikTok for the first time as part of an app-focused media plan.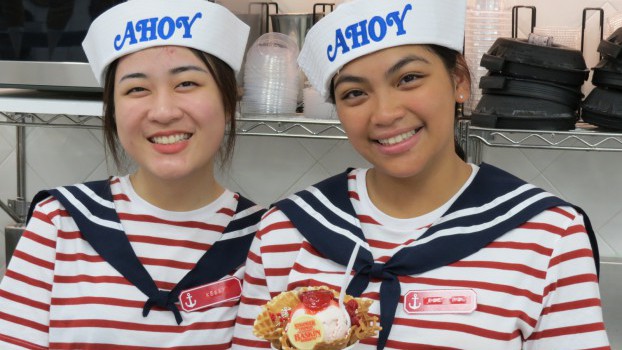 For the last week, Baskin-Robbins has turned heads in Toronto with its experiential-fueled partnership with Netflix, flipping one of its locations in the city to resemble a key location in the new season of the streaming service's original series, Stranger Things.
But the media plan, led by IPG shop Initiative with digital support from Reprise, is extending well beyond the single location, and is incorporating a Canadian first for the brand — a partnership with mobile music and video app TikTok. The Canadian activation is part of a global partnership between Netflix and Baskin Robbins to promote the new season of the cult favourite, which premiered July 4.
The whole plan, according to Baskin-Robbins Canada marketing manager, Natalie Joseph, was to reinforce and support the chain's pivot to a generation of younger ice cream lovers. Historically, the brand has been focused on moms 35 and up with families. Yet, as younger generations gain buying power (and many opt for more artisanal, indie and local ice cream choices, such as charcoal-coloured flavours and cones, and unconventional flavours such as cardamom and cereal milk crunch), the brand has made some more experimental choices in order to pull those young, hip consumers in.
"Targeting Gen Z was a major pivot for us," said Joseph in a statement. "We knew it was a smart demographic to reach. Our challenge was finding an authentic way to connect with them."
The key to reaching Gen Z, for the brand, was in the place where they spend the most time — apps. According to a recent study by The Globe and Mail, more than two-thirds of Gen Z use at least one social media app daily. And while Baskin-Robbins utilized classic social media apps like Instagram and Snapchat, it also made a move on TikTok for the first time in Canada.
Although TikTok can't be directly monetized through pre-roll or display ad buys, Initiative and Reprise engaged influencers on the platform to promote the #StrangerThingsBinge challenge through their videos.
TikTok, formerly known as Musical.ly, specializes in creating short-form videos that are musical, usually lip-sync or dancing videos and often comedic in nature. While history hasn't always been kind to specialized short-form video apps — see Twitter's 2016 shuttering of Vine — TikTok is showing promise for many. TikTok is mum on how many global users it has (at one point in its previous iteration as Musical.ly, it claimed to have 100 million global users), let alone per market, but sites from Apptopia to Bytedance have pegged the app at anywhere from 130 million to 500 million monthly active users — and growing fast.
TikTok "challenges" are proving to be effective, even organic ones; a recent study by Nielsen Canada found that TikTok directly contributed to the breakaway success of country-rap tune "Old Town Road" thanks to a viral TikTok "#OldTownRoadChallenge," which even attracted the likes of Gritty. The result was 674,000 streams for the song from Canadians, and 121 million globally, with most of those between May and June alone.
Beyond new media, Initiative also incorporated a robust traditional media plan to draw mass awareness. Radio was used to drive the in-store promotion, while tactical, location-based OOH placements in the Toronto area were used to drive foot traffic to the temporarily themed Baskin Robbins store at Woodbine Mall in Etobicoke, Ont., meant to look like the fictional Scoops Ahoy shop featured in the new Stranger Things season. Reprise also engaged influencers to develop custom content to tease and eventually reveal the exact location of the Scoops Ahoy store.
Still, Initiative found a way to link the traditional to the social aspect — the OOH placements contained Snap codes, which allowed viewers to further engage and gain information about the in-store activation through a responsive Snap Lens. It's a similar OOH-triggered Snapchat activation to the one recently used by McDonald's.
Besides Initiative and Reprise, agencies 2Social and Torchia Communications assisted in the campaign.