RBC takes the Training Ground to a national level
A partnership with CBC Sports will see even more national content come from the program.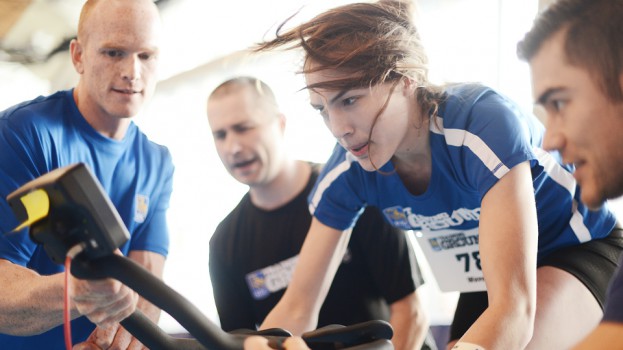 In just over two weeks, a group of 100 young athletes will descend upon one of Canada's "Olympic cities" to compete in a Canadian first.
The RBC Training Ground, now in its fourth year, will play host to its first-ever National Final in Calgary on Sept. 14. The newly expanded program saw 2,000 athletes and Olympic hopefuls apply across 30 RBC Training Ground qualifying events. Following a series of qualifiers, the final athletes will compete for funding and a spot on one of eight National Sport Organization teams. Up to 30 athletes will officially be selected.
Shannon Cole, senior director of brand marketing at RBC, tells MiC that the national finals was part of an effort to keep the financial institution's famous content program "fresh" after four years, while also expanding its reach among young people.
"Young people in general are a very big priority for us as a bank," she says. "The heart of this program is that it takes young athletes and supports them right from the beginning."
This year, there will also be more content opportunities for RBC. The events, which are free to attend and open to any athlete between the ages of 14 and 25, will be covered by CBC Sports, which will feature the event on its weekly Road to the Olympic Games broadcast. Another new piece is the addition of live-streaming, as highlights from the event will be featured on the CBC Gem OTT service. Additionally, the CBC Olympics social media channels will include live digital content. And finally, following the conclusion of the events, the stories of athletes selected from the program will be highlighted on future editions Road to the Olympic Games.
Olympic champions Justin Kripps (bobsleigh), Patrick Chan (figure skating) and Penny Oleksiak (swimming) will be on site in Calgary to encourage the participants, while Tokyo 2020 participants Melissa Humana-Paredes (beach volleyball) and Jennifer Abel (diving) will also make appearances.
"It's going to be a very immersive weekend," says Cole. "Scott Russell will be there, and he's one of the faces and voices of the Olympics in Canada. There will be tons on digital and social, and that will give us a lot of opportunities for Canadians to follow along the way."
All of the major financial institutions have made investments in sports – TD holds the naming rights to the Ottawa football stadium and has had a longtime partnership with the Toronto Blue Jays, CIBC has various hockey initiatives and Scotiabank has also been a major investor in hockey, both from a naming rights and content perspective (Scotia's sister brand Tangerine is also a major sponsor of the Raptors).
But Cole says the Training Ground program gives RBC a unique take on sports sponsorships because it can reach Canadians on a more personal level. "Canadians have a love for the Olympics, Olympians and the Olympic movement in general. Specifically, there's always a huge amount of support for our athletes. We can feed the pipeline and introduce a lot of young people to the program."
RBC has been an Olympic partner for more than 70 years. Since it launched the Training Ground program in 2016, more than 7,000 athletes have been tested at 98 live events across 35 cities. More than $1.3 million has been provided to support qualifying athletes. RBC has had a longstanding relationship with Mosaic, which helped develop the program, and works closely in partnership with the CBC, the Canadian Olympic Committee and the Canadian Olympic Foundation.