Why Visa's going for a more human touch at TIFF
The payments technology company is going for a more personal experience and is focused on providing users with more lounge time and sweet treats.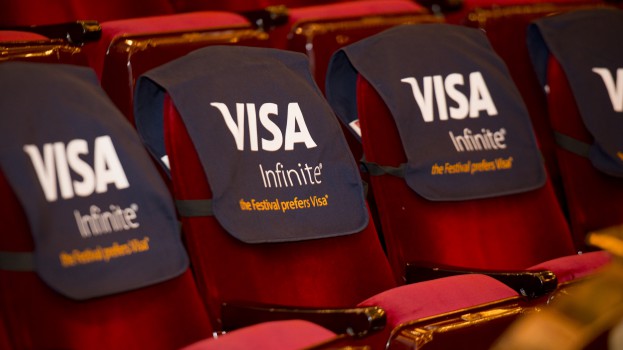 When a sponsorship relationship  – like the one between Visa and TIFF – stretches on for more than 20 years, there can be a lot of pressure to keep it fresh and continually innovate.
For Visa, that's meant years of upping the ante in terms of cool, interactive, tech-fueled installations and activations at the Toronto International Film Festival, held annually in downtown Toronto in early September. This has included enabling festival goers to tell infinite "stories," booths to try on AR costumes and an outdoor corridor which lit up as guests passed through and provided fun Boomberang-ready moments.
But this year, the payments company is taking a different approach. It's distinctly offering something a bit more low-key in terms of tech, but more sociable.
"We looked at the festival last year and asked ourselves 'How are brands showing up?'" Heather Nobes, head of consumer marketing at Visa. "A lot of it just had to do with making people feel special. We thought there was a good opportunity to do that."
Previously, Visa's dive into techy displays have been all about showcasing its payment innovation. But the different approach, says Nobes, was to "put the festival-goer experience at the centre" and aiming more for broad awareness, particularly of the Visa Infinite product.
This year's activation will continue its branding at the Princess of Wales Theatre and its cardholder lounge. It will also keep the feature it added last year, the Visa Infinite Priority Line, which allows users to bump their place up in line rather than wait outside the theatre. "The unfortunate truth about festivals is that you can always anticipate some bad weather, so it turned out to be quite a popular option," notes Nobes.
The brand will continue to have a physical activation footprint just west of Metro Hall, just steps away from the TIFF Bell Lightbox on Toronto's King Street West. While that footprint was previously the epicentre of all things shiny and sleek, Visa is using the locale for more of a human touch. "We're playing on a very simple consumer insight: that everyone likes to eat sweets at the movies." The Visa space will have giveaways and sampling of treats, including Pepsi products.
Visa worked with the design team at Sonar on the theatre and lounges, while the activation footprint was the result of a partnership with Proof. The media partnership was secured through Starcom.
Two years ago, Visa renewed its partnership with TIFF, expanding the relationship until at least 2022.