Spotted! What's sweet, sleek and unique at TIFF?
From sparkling beverages to sweaty bike rides, this year's festival activations offer more of a lean-back experience.
It's day two of TIFF and already the movie and celebrity buzz is on overdrive. Stars like Jamie Foxx, Brie Larson and Dev Patel are the talk of the town, and films like Canadian doc Once Were Brothers and The Personal History of David Copperfield have captivated audiences. But no trip down Festival Street would be complete without brands – lots of brands.
This year featured new and returning brands, with some choosing to change up their strategy slightly. While innovation and quirky style was still on display – like L'Oréal's virtual makeup mirrors and Bell's iconic movie and TV set chairs – many of the brands brought the focus back to hospitality, socialization and plenty of sweet treats.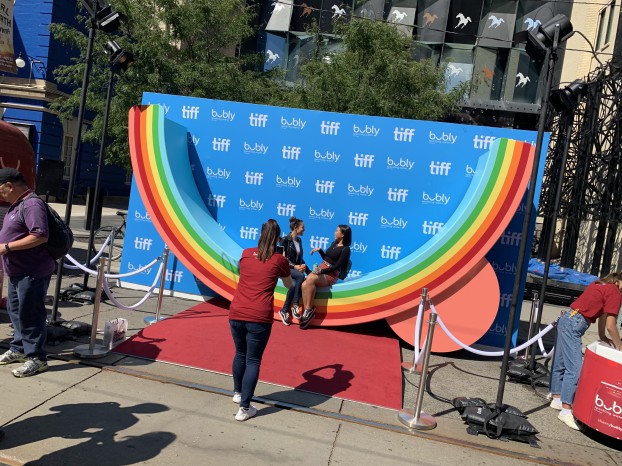 PepsiCo shows its true colours
New to this year's festival activations is PepsiCo sparkling water brand Bubly. While Bubly mostly engaged in sampling efforts out of a vintage hippie van on Festival Street, the brand also provided photo opps – and a reinforcement of Bubly's lighthearted, fun-loving branding – with a large upside-down rainbow (meant to signify not only the various colours of Bubly's cans but also the broad smile found within its logo). Emerging from the ends of the rainbow are streams of soap bubbles, floating freely out into the King Street sky.
Peloton peddles into TIFF
Also new to the festival sponsor roster this year was buzzy D2C juggernaut Peloton. The exercise and tech company, which makes smart bikes that track workouts, set up an experiential booth north of Roy Thompson Hall to give festival-goers a celebrity-style workout. Peloton first emerged on the scene as a largely digital advertiser before moving into television. After establishing a bricks-and-mortar presence in standalone stores, Peloton has also established a more experiential strategy at this year's TIFF.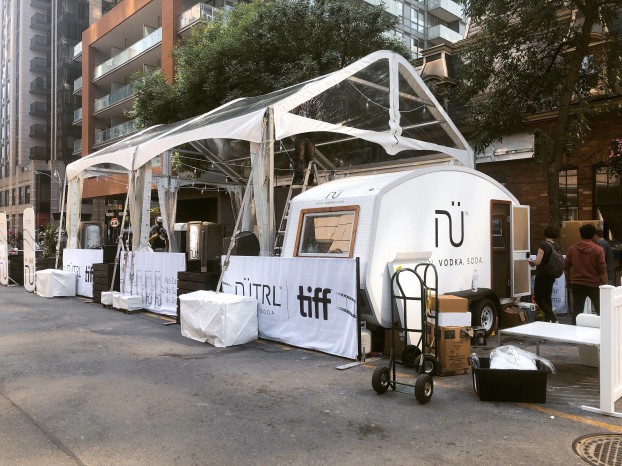 Nutrl offers subtle sweetness under the stars
Another first-time sponsor is Nutrl, which specializes in ready-to-drink, sugar-free cocktails. Nutrl announced its TIFF sponsorship earlier this year, in a partnership brokered by Meehan Ideas, the agency owned by Nutrl's head of marketing Paul Meehan. At the festival, Nutrl served complimentary cans of its vodka sodas, including new flavours like pineapple and white grape, from a tiny trailer and allowed consumption in a tent with a clear tarp, in order to see the stars at night (even if you missed the stars on the red carpet). And, for those who weren't lucky enough to get tickets inside the Princess of Wales Theatre or the Lightbox, Nutrl also showed classic movies – like The Big Lebowski – onsite at its activation. The goal, according to Meehan, was to accelerate Nutrl's growth by increasing accessibility to the product and targeting consumers with "premium populist" values.  "There's prestige, but it's the world's largest public film festival. It's one of those things that Canada is so proud of – it's so overtly cool."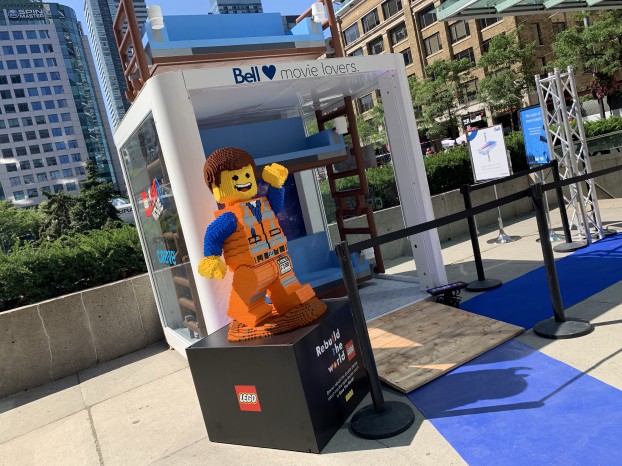 Visa and Bell let you take a seat
Returning sponsors Visa and Bell have been friends of the festival for decades, but the brands have both changed up their messaging slightly. Whereas Visa has previously used its activation footprint to showcase funky technology, this year it offered more of a premium lounge environment, sampling sweets and sips for fans in between films. Bell, which promoted streaming service Crave at the festival for the first time this year, brought a new twist on last year's movie scene pop-ups with famous movie and TV chairs – all from Crave properties, such as The Lego Movie (pictured above).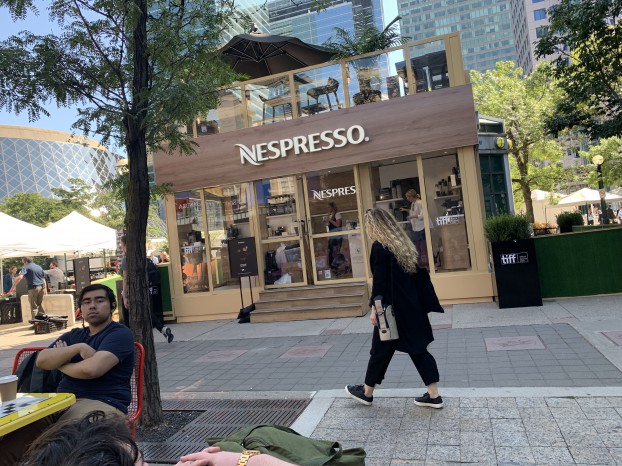 Other exquisite experiences
Returning for a second year was Lyft, keeping things fun and interactive with mini games and prizes, while offering vouchers for the ride sharing service to festivalgoers.
Nespresso brought back its famous activation footprint, a double-decker mini cafe which serves up piping hot espresso all day and will play host to the Coffee With Creators initiative.
And, Air France continued to target the festival crowd and promote air travel; while last year it opted for a teeny-tiny French restaurant, this year it offered more of a lounge experience, with brand reps dressed in classic flight attendant gear and offering "concierge" service such as refreshments, comfy seating and some time in the shade.
Photos by Kristyn Anthony