Sun Life keeps Rudy dancing with the Raptors
Expanding its sponsorship with the NBA champs, the health and wealth brand builds a new campaign on the importance of good advice.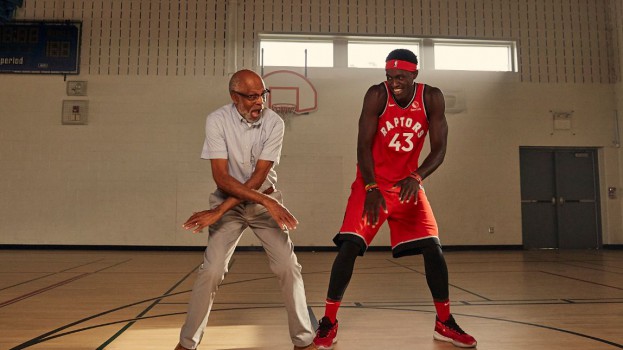 Grandpa Rudy cuts a rug with Toronto Raptor and Sun Life Ambassador Pascal Siakam.
When Sun Life became the first-ever jersey sponsor for the Toronto Raptors back in 2017, the company had little inkling the team would return to the court in 2019 as NBA champs.
Now with a new call to action, "It all starts with great advice," Sun Life has expanded on its partnership with the team in a new campaign – building on the momentum of a successful first partnering and a championship year – featuring none other than everyone's favourite dancing grandpa, Rudy.
"I think people can see themselves in Rudy," says Milos Vranesevic, chief marketing officer for Sun Life. "It's very inspiring to see someone living healthy and moving the way someone of Rudy's age can move."
The campaign, launched Nov. 4, will roll out in the coming weeks across different paid media – which includes multimedia integrations, advisor-targeted B2B marketing, national TV and digital spots as well as social media and some print – and will run through 2020.  Vranesevic calls it "a pretty comprehensive integrated campaign."
To promote a healthy approach to both finance and fitness, he says there is no better partner than a sports brand and no better way to maximize marketing partnerships than in a championship year. "It's a new ad campaign but we've dubbed it True Wealth 2.0," he says. "The momentum is strong and visible. Our intention is to promote the unique position we have as a brand with Canadians where we offer both health and wealth solutions."
In the 30-second TV spot, Rudy is back at it, dancing his way through a contemporary class, the tango, even line-dancing and then finds himself immersed in the Raptors North Side Crew as Sun Life Ambassador Pascal Siakam dribbles through on his way to the net. It's reflective of the varied demo Sun Life has built a business with, says Vranesevic.
Increasingly, Vranesevic says the company is looking at partnerships where it can leverage its key message of the importance of good advice. "When you've got that connection with the Raptors and winning a championship, a lot of that happens through good coaching as well as through good plays. A lot of this work that we've developed through our partnership with the Raptors has really led us to some great territories."
Sun Life worked with Cossette Media on the media buy for the campaign, with Havas on creative.