Jay and Dan get a McMakeover (and new sponsor)
McDonald's has signed on as the new presenting sponsor of SC With Jay and Dan, and the boys aren't being subtle about it.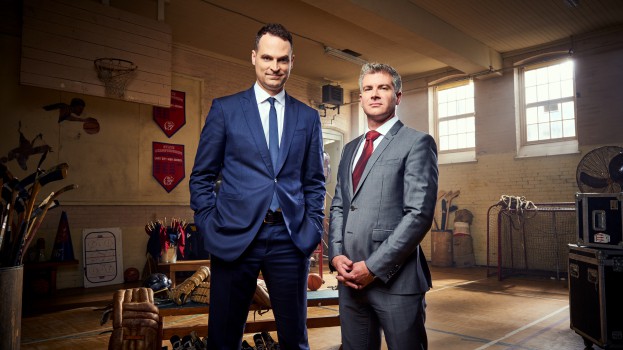 Now heading into its third season, SC With Jay and Dan on TSN is getting a new look.
Not only has the show logo been re-branded, the series has also signed on a new presenting sponsor. Previously paired with Tim Hortons for two seasons, the show has ushered in a new QSR, and is now known as SC With Jay and Dan Presented by McDonald's. The restaurant has also signed on as the title sponsor of Jay Onrait and Dan O'Toole's popular podcast, the Jay and Dan Podcast Presented by McDonald's.
With a new sponsor comes a new feel, says Bell Media's VP of brand partnerships and client strategy Justin Stockman. The very first episode under the new sponsor saw the notoriously goofy Onrait and O'Toole ferociously chowing down on Big Macs. "They're actually big fans of the brand itself," Stockman says. In a press release, Onrait and O'Toole wrote about their love for McDonald's, including O'Toole saying he "literally has dreams about Bic Macs," and an anecdote from Onrait about he and his wife serving their wedding guests "midnight lunch" from McDonald's.
While some shows like to keep sponsor integrations subtle, Stockman says SC With Jay and Dan isn't shying away from having McDonald's be "fully integrated with the show, synonymous with the Jay and Dan brand."
Stockman wouldn't give audience numbers but says in the three years since Onrait and O'Toole returned to the network (after a brief stint in U.S. media), the show has grown its audience each year.
Because SC With Jay and Dan airs multiple times per day, and McDonald's promotes itself as a "three-meal experience," there are chances to promote aspects of the QSR's whole menu, says Stockman. The 52-week sponsorship is also crucial, he says, because McDonald's usually has multiple promotions in-market at once.
"There's very few clients that have something to talk about every week. We have multiple integration opportunities with a sponsor who is literally always willing to activate. It could be for McHappy Day, McCafe, Monopoly season… We can always hit whatever their priority is, which is rare in clients."
The partnership will expand across social and digital, although Bell Media is still working on the strategies for those executions. But Stockman says it's a big part of the deal. "Jay and Dan already have a huge social footprint," he says. The show's Instagram profile boasts 126,000 followers, while Onrait and O'Toole have a combined 130,000 followers on their individual accounts. On Twitter, they have half a million followers each. "We've got a lot of weeks to work with them and see what we can do, but McDonald's is definitely going to be integrated into that."
Bell Media worked with OMD on brokering the deal, but Stockman emphasized that the company has been working a lot more with the restaurant brand now that it's in the execution phase.