Crave launches first French brand integration
The bilingual campaign, with Destination Canada, will run on digital and linear channels in a six-part, three-minute episodic series.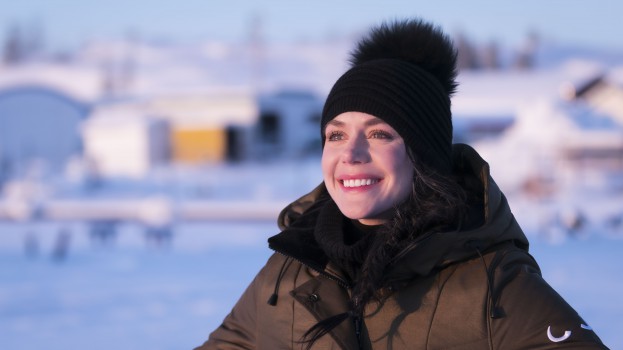 Crave is launching its first foray into French-language brand integration in a new campaign with Destination Canada, the federal tourism marketer.
In a series of three-minute episodes to run on Bell's digital and linear TV channels, "For Glowing Hearts" will feature prominent Canadians – including Mary Berg, Jeffrey Bowyer-Chapman, Tessa Virtue (pictured above), Tyrone Edwards – traveling across the country in a campaign brokered by IPG.
Justin Stockman, VP of brand partnerships and client strategy at Bell Media said the broadcaster did a similar campaign with Destination Canada a few years ago.
"That one, we relied more on traffic driver units versus the actual full content to get their reach," he explains. "This time we've gone for the actual full content distributing it everywhere."
The bilingual campaign, a six-part series, will air on Crave, CTV.ca, CanalVie.com and Sympatico.ca as well as on English speciality channels Discovery, CTV Sci-Fi and CTV Comedy and French specialty channels Canal D, Investigation, Canal Vie, Z and RDS.
Because it's an ad-free product, English Crave has been experimenting with branded content using the streamer as a premium distribution platform for advertisers, Stockman says, but adds that "For Glowing Hearts" is Bell's first time doing that in French and English at the same time.
Destination Canada is using the campaign to market the "shoulder season," the spring and fall when Canadians aren't typically traveling domestically. The target, Canadians aged 35-64 is broad, Stockman notes, hence the push to so many Bell channels.
Bell paired some of its talent to appear in the spots which will air live on Fridays on CTV.ca and appear on Crave the following Monday. The premiere episode with Mary Berg, (Mary's Kitchen Crush) launched Jan. 31.
In January, Crave announced it was going bilingual making available more than 250 French-language TV series and offering  Super Écran, available as an add-on.