Could another Raptors run give TV a shot in the arm?
TSN and Sportsnet have found a temporary solution to fill 24 nights of primetime slots. Is it enough?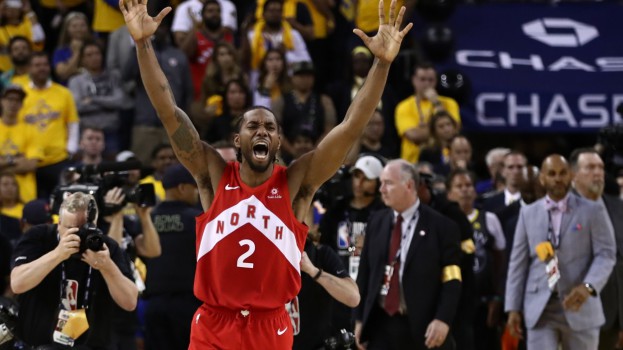 It was one of the most unifying moments in Canadian sports history. In the dead of night on June 13, 2019, Toronto erupted into a flurry of celebration and elation. The Toronto Raptors had just won their first NBA Championship. Music blared, and fans danced in the streets.
In the bleak wake of the COVID-19 pandemic, that sort of effervescence seems worlds away. But TSN and Sportsnet are hoping to recapture that magic in an effort to pull isolated viewers toward the tube — and to fill some suddenly empty programming blocks.
The Bell Media-owned TSN and Rogers Media-owned Sportsnet have partnered to re-play the Raptors' historic run across both networks for 24 consecutive nights. Starting March 20 through to April 12, the two networks will alternate coverage in their primetime blocks of the Raptors' post-season run, from the first round against the Orlando Magic all the way to the dramatic final series against the Golden State Warriors. Besides linear, the broadcasts will also be available on both networks' streaming subscription services, TSN Direct and Sportsnet Now.
The first game, Orlando at Toronto, kicks off March 20 at 8 p.m. on Sportsnet. Games will play every consecutive night at the same time, alternating networks, until the grand finale with Toronto at Golden State on April 12, airing on TSN.
As sports leagues far and wide postpone and cancel seasons, sports networks have found themselves lacking in terms of programming and ways to reach swaths of audiences. The lack of sports also means a lack of sports news — and that, coupled with a general suspension of productions across the entertainment industry has led to the temporary suspension of some TV programs, such as TSN's Sportscentre, and Sportsnet's Tim and Sid (the latter is continuing to produce a radio show).
Can this effectively pull in audiences and advertisers?
Scott Stewart, president at VMC Media says, on one hand, the broadcasters' strategy is pragmatic. "I know that the networks are looking for content to air. In absence of other programs you need to go to the shelf for solutions."
But no, he says, it won't fully satisfy advertisers. Live sports have been essential for networks amidst all the creeping competition from SVOD, specifically because they "buck the trend" of users wanting everything on-demand, adds Stewart.
"The value of buying live sports is that [it] engages large audiences, in real time," he says. "Especially now when linear audiences are eroding as people are flocking to Netflix and Amazon for content. [Viewers] are constantly plugged in and cross-platforming, yet 95% of sports continues to be viewed live."
Michael Beckerman, president and CEO of MKTG Canada agrees that rehashed programming might not cut it. "Sport events reruns historically score very low viewership," he says. "With the vast variety of content available to choose from, it would be tough to attract viewership just through reruns."
Although many are flocking to SVOD right now, Beckerman notes that people are likely to get tired of news and the same series and movies they've seen before, and will want newer content. The sports stations should instead find "innovative ways [like live digital interactions] to attract and engage the viewers so the experience is beyond just a game with a known outcome."
The re-airing of the NBA Playoffs is a start, he says, but it will need to be supplemented with other engagement tactics.
Beckerman adds that while reruns allow brands, like Tangerine and Sunlife, that were originally a part of the Raps journey last season to "enjoy a halo effect of some of the reminders of the Raps championship run… it will be limited."
However, Stewart says, even if audience numbers aren't comparable, it's probably better than nothing. "We need to go on and keep moving as an industry," he says. "For the Raptors fan who is at home and tired of 'Netflicking,' why not re-celebrate a championship run?"