Media Central bought two indie mags in two months. What happens now?
Brian Kalish says he isn't afraid of the "socio-economic forest fire" that is the pandemic, and is trying to speedily locate opportunities.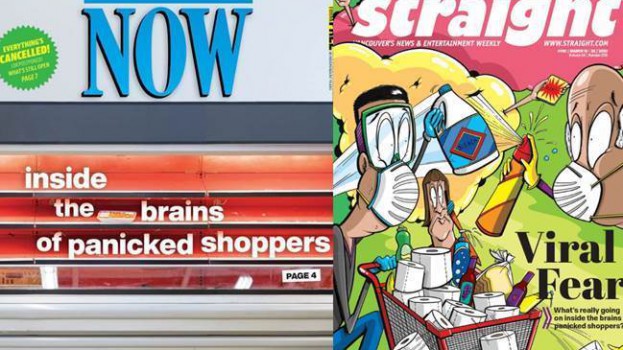 When Now magazine was purchased for $2 million in December, Brian Kalish, Media Central CEO, said he has a five-year plan that involves acquiring even more alternative publications. He told MiC he'd identified around 100 publications that he was hoping to have under his remit. By January, his upstart media company had already acquired a second title, the Vancouver-based alternative mag Georgia Straight for only $1.2 million.
Even amidst a global pandemic that is sure to have major effects on Canadian advertising and the economy at large, the plan is still on, he says.
"There are a few we're actively pursuing," he tells MiC. "The plan is to unify the 100-million-strong readers of alternative titles by consolidating the 100 alternative titles being owned and operated as independents, but [that] are not able to take the efficiencies out of what is a very fragmented, although very lucrative, part of the media landscape."
He admits that things are "difficult in our traditional lines" as brands are more cautious with their ad dollars in the face of COVID-19.
That's why, he says, "We have a major push to lean into other categories where advertising is still buoyant, and into the digital side of the market where the opportunities are greatest."
His plan for weathering the "socio-economic forest fire" that is the pandemic: think fast, act faster to identify the revenue and operational opportunities that exist throughout this time. For titles already operating on razor-thin margins right now, depending where, what and how they publish, Kalish says opportunities exist. But media companies need to seize every opportunity.
In the meantime, Now and Straight have published their first co-branded cover feature. Although the two publications are nearly a country apart, they share the feature, albeit with separate covers and other unique content throughout the magazines. Kalish says this is one of the examples of how indie mags can capitalize on opportunities to stay efficient during troubling times.
Media Central Corporation was founded last year with the goal of acquiring and developing alternative media outlets across Canada and the U.S. The company launched in the fall with cannabis culture site CannCentral and plans to build a portfolio merging print, digital and social media opportunities for local and national advertisers.