Snap reaches a new frontier: B2B
A campaign is now live in Canada across print, broadcast and digital channels.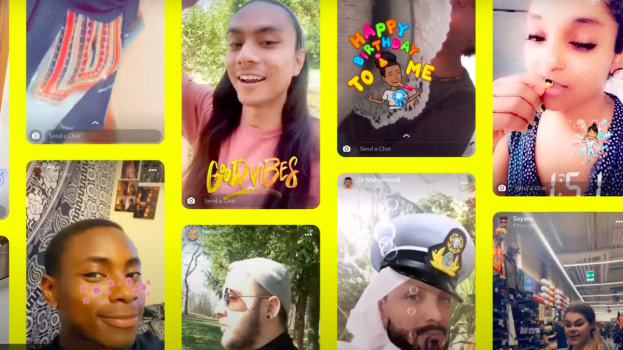 Snapchat is highlighting its biggest benefit, the Snapchat community, to potential advertisers in its first B2B campaign. "Meet the Snapchat Generation" was developed by the company's global business marketing team with external creative and production partner SpecialGuest.
The campaign is now running in Canada as well as the U.S. and Australia across print, broadcast and digital media channels. It will expand to U.K., the rest of Europe and other markets later this month.
The campaign focuses on the Snapchat generation, which Snap calls the world's largest generation, with data about their habits, beliefs, values and how they're driving new ways to use technology and changing culture for the better.
Kenny Mitchell, CMO of Snap, says the company is marketing itself based on its audience, which separates it from other social networks. "The Snapchat Generation is the most informed, tolerant, active, and diverse group in history. Our first marketer-focused campaign showcases what is so special about our community, from their strongly held values to their unique [behaviours]."
One key behaviour highlighted by Snap is that its users tend to support brands that give back – Snapchatters are 34% more likely than non-users to buy from brands that support their local communities. They also say that close friends have four-times more influence on their purchasing decisions than celebrities. The majority believe that disappearing messages provide a safe space 'to be yourself'.
The focus on individuality and social justice values among users also extends to users' affinity for charitable causes and positive messages on their Snaps. It comes at a time when its social media rivals Facebook and Instagram have endured public scrutiny, largely due to parent company Facebook's alleged poor handling of misinformation and hate speech. That scrutiny resulted in a mini-exodus of advertisers from the platforms for the month of July, although reports indicate that many of those advertisers returned to Facebook's properties fairly quickly when the calendar page turned.
Nevertheless, Snap has already managed to court advertisers effectively this year, even during a time of a general downturn in ad spend. Q2, which covered April, May and June saw the company's revenues rise 17%. It's small compared to its Q1 surge, which saw a 44% growth, but it still beat analyst expectations, which predicted a 13% growth.
Snap execs have also been positioning the company as poised to weather storms that other social platform struggle against from an earned media perspective. In March, the company told AdWeek that it was in a strong position to combat misinformation because its platform is more based on communication than news feeds.