Sobeys strikes an NHL deal
Voilà's deal with the Leafs and the NHL rounds out what has been a dominant media campaign in the GTA.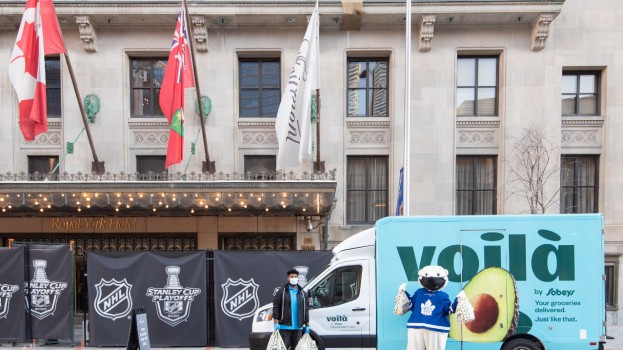 Sobeys has left no stone unturned with the roll-out of its new Voilà grocery delivery service.
The new service, which launched in Vaughan at the end of June and is now rolling out to other areas in the GTA, has been a major buyer on radio so far. According to Media Monitors, Voilà spent three weeks booking more than 900 ads per week before increasing to 1,032 ads the first week of August to make it the top buyer in the area. It's also been dominant on social, with ads on platforms including Twitter, Pinterest and Instagram, and has had additional OOH buys. Media strategy and execution was handled by UM.
Now it's rounded out its launch campaign with a sponsorship component. The brand served as the grocery delivery service of both the Toronto Maple Leafs and the NHL. Last weekend, it began supplying snacks to teams playing in the Stanley Cup Playoffs directly to the Toronto NHL Hub at the Fairmont Royal York. The initial drop-off was supported by beloved Leafs mascot Carlton the Bear.
Unfortunately, the special delivery of fresh fruit, veggies and ready-to-go snacks to the Leafs prior to their last game wasn't enough to fuel a win – but Voilà's relationship with the NHL will continue throughout the Playoffs.
Currently in the midst of its GTA roll-out, Voilà allows consumers to order online or through its own mobile app. While most of its media efforts are currently centred around the GTA, Montreal will be the next area to get a distribution centre. There, Voilà par IGA will facilitate deliveries to not only major Quebec cities, but also Ottawa.