Skip buys big to boost NHL partnership
As the delivery app brings arena food to living rooms, it's sparing no expense on TV, digital and social.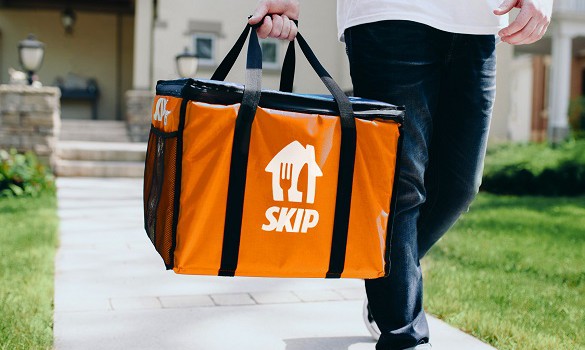 Although NHL fans must watch the games exclusively from home, Skip – formerly known as SkipTheDishes –is delivering the taste of the arena to them. The food delivery app and service has partnered with the Canadian NHL teams still in the playoffs to give their fans an in-arena dining experience.
Pizza Pizza has developed a specialty menu featuring fan favourites for each city still in the Playoffs– Vancouver, Montreal and Calgary. All orders placed through Skip will be delivered with team swag items.
Besides the partnership itself, a Skip spokesperson tells MiC that it developed a "significant media package" through its media buying partner, UM, to support the objectives of its overall hockey and sports platform. The platform, known as Gear Up With Skip, is centred around "delivering the game experience to the best seats in the house – the homes of Canadian sports fans."
Skip has created a video campaign of 15-second spots for each city to encourage Canadians to gear up with
their favourite food through Skip for the big game.
The campaign includes a $2.9 million broadcast and digital buy, which will also showcase Skip's new orange colour and logo. In addition to the video campaign, in-rink advertising will support the rebranding efforts. The broadcast spots highlight one of hockey's biggest fans, longtime Skip spokesperson Jon Hamm, as he enjoys the action at home in Sauce Cam. Spots will appear on Sportsnet as well as its digital and social channels and affiliated stations airing NHL games. It will also air on TVA.
In addition, Skip is partnering with Sportsnet for a "Who's Hungry" segment to highlight the game's hungriest player. The 30-second feature, usually in the first period, highlights the player who is hungriest for the action – going all in from the start. It includes a seven-second intro and a branded highlight spot of between 10 to 20 seconds.
UM coordinated the broader media buy, including broadcast spots, in-game features such as "Who's Hungry" and highlights across digital platforms for NHL playoffs.