Major League Soccer comes back, plans expanded postseason
Bell Media's TSN retains exclusive English-language broadcast rights to the league.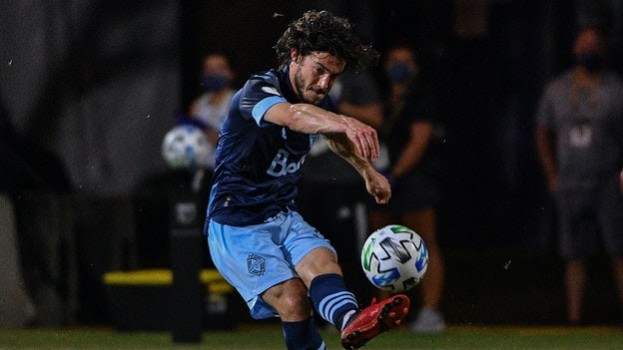 Major League Soccer (MLS) resumed its regular season this week, with TSN airing a match between the Toronto FC and the Vancouver Whitecaps at BMO Field on Aug. 18.
MLS is the latest sport to resume following the lockdown, with 11 regular season games still to come. However, while some sports have had to run condensed seasons or postseasons, MLS will expand its Playoffs in late fall. Also, while TSN split the rights of popular sports such as hockey and basketball with Sportsnet, its deal with Major League Soccer is exclusive.
The first phase of this season's MLS on the TSN cycle will feature games played in each regional market, due to travel restrictions between Canada and the U.S. First phase match-ups will feature all three Canadian teams (Toronto, Montreal and Vancouver) playing against one another. In total, 11 more games will be played, beginning tonight, with eight of them being between Canadian teams. Those games will take place in late August and early- to mid-September.
The second phase will begin later in the fall, with the specific date to be determined, in order to accommodate for travel and player safety. TSN's coverage will also include MLS Decision Day on Nov. 8 and complete coverage of the MLS Cup Playoffs, concluding with the final on Dec 12.
Games will feature play-by-play commentary from Luke Wileman and Steven Caldwell and game analysis from Kristian Jack on Toronto FC and Montreal Impact games. Vancouver Whitecaps games will be called by Peter Schaad and Paul Dolan.
Major League Soccer is the latest among the major sports leagues to start up again. The NHL, NBA and MLB have all resumed play, although the MLB's season has been plagued by issues of COVID-19 infections among players and clubs. The NHL and NBA, however, have taken the approach of a "bubble" method, isolating players within a limited geographic area in order to keep things safe (and resulting in the airing of multiple games per day in order to accommodate the condensed schedule). The CFL, meanwhile, had to cancel its upcoming season, as it does not have the financial means to achieve a similar bubble method.
According to Vividata, 24% of Canadians follow soccer. While that's significantly less than hockey (60%), it's not that far off from basketball (31%), which has taken Canada by storm despite the NBA having only one Canadian team. Many buyers and advertisers have noted that soccer is a growth area for advertisers – it's one of the most popular sports for children to play due to the low cost of entry.
Bob Park, chief of brands for GE Appliances, previously told MiC's sister publication CARD that the low cost also applies to watching games. "TFC is one of the few major league [teams] left where the average family can afford to take their kids… to a game," he said. Most regular-season tickets to a TFC match run under $100, with some as low as $38, whereas regular season tickets to see the Raptors play start just below $100, and Leafs tickets start in the low $200s. While fans obviously won't be watching in person this season, there's potential for the affinity to carry into televised matches.
GE Appliances has gradually built up its sponsorship efforts around MLS clubs, while Kellogg Canada recently expanded its partnership with the league as well. Buyers have told MiC that sponsorships at a league level for MLS tend to run comparable costs to team-level sponsorships with the NHL, meaning there are deals to be had within the sport.