The Verdict: How did Taco Bell's Snapchat buy impact store visits?
The platform helped the QSR look beyond brand lift and purchase intent as proof points for a social campaign.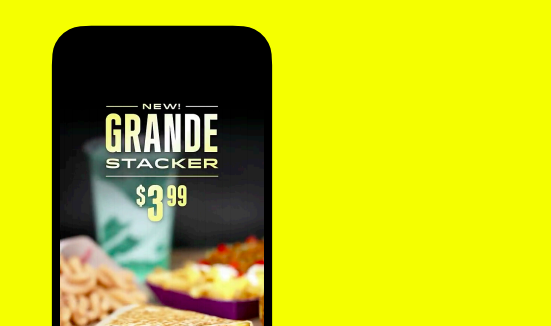 At a time when fast-casual restaurants and QSRs are desperate to get people through the doors, Taco Bell Canada embarked on a campaign that was specifically designed to drive in-store traffic, beyond just brand lift and recognition.
For four months, the brand conducted an ongoing buy on Snapchat, specifically around two limited-time offers for the Double Layered Tacos and the Grande Stacker. Now, the campaign has concluded, and it's officially reported more than 30,000 incremental store visits, representing a 6% lift for those four months.
Calvin Wilkinson, Snap Canada's QSR lead, explains to MiC that Taco Bell operates its media spend based on six different limited-time offer windows, and it decided to work with Snap – through its media agency, Wavemaker – to find a combination of ads that would work for its KPIs. The average CPM of the campaign was less than CAD $1.
Jaden Heffering, who manages the Taco Bell account at Snap, says the team mainly combined Snap Ads and Story Ads, which were the two most effective ways to drive reach. "Taking a multi-product approach helped promote discovery the best," she explains. "This is becoming a really influential point for Yum Brands, because you had that upper- to lower-funnel perspective and conversions we could actually see."
While Yum and Wavemaker were conscious of the fact that Snapchat tends to most commonly reach Gen Z and Millennials, the campaign was explicitly targeting those age 18 and over, vying for adults beyond the Gen Z teen cohort. And Wilkinson points out that currently, one-third of Canadian Snapchat users are parents.
Ad awareness also lifted: Taco Bell's numbers show the Double Layered Tacos campaign drove a seven point lift in awareness while the Grande Stacker saw a 10-point lift in ad awareness and a 12-point lift in purchase intent. However, says Wilkinson, in-store results are the most important, particularly within the context of COVID. Although take-out was still an option early in the pandemic, he says, there was apprehension around going to QSR stores to buy food.
Heffering says the campaign is leading to further discussions between Yum and Snapchat regarding Yum's other brands, KFC and Pizza Hut, although no official campaigns are in market just yet.