Nerf's new content program is all about brotherly love (and rivalry)
A social campaign, featuring Brady and Matthew Tkachuk, highlights the fun of playing with (and competing with) your siblings.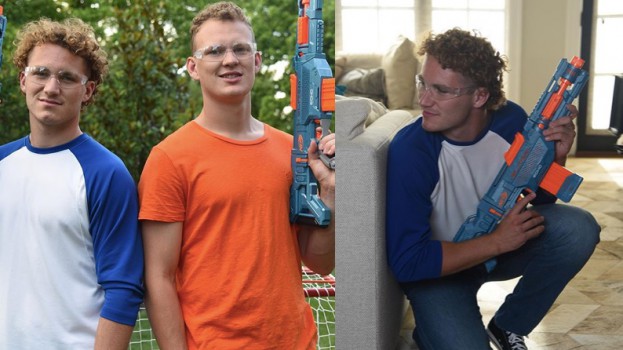 The world has seen some great brother rivalries. Cain and Abel. King Richard and Prince John. Liam and Noel Gallagher. Michael and G.O.B Bluth. And then there's Brady and Matthew Tkachuk.
Hockey is a family affair in the Tkachuk family; father Keith played more than 1,000 games over 18 years in the NHL, sister Taryn is carving out a career in field hockey, elder brother Matthew has spent four years with the Calgary Flames and middle child Brady is a winger for the Ottawa Senators. The family has a history of being candid and comedic about the egging on of the brothers' rivalry, especially on social media.
It was in the Tkachuks that Hasbro saw an opportunity for its Nerf brand.
Bryan Kingston, manager of integrated media, North America for Hasbro, says it started with an objective to get Nerf Blasters at the top of consideration for youth holiday wish lists this year. The brand team knew it wanted an athlete, he says, because many of Nerf's core targets look up to and even aspire to be athletes.
It wasn't long before they settled on the Tkachuks. Although they're American-born, playing for Canadian teams gives them strong Canadian fan-bases. And despite being aspirational, Kingston says their dynamic is also especially relatable for kids. "They're in their early twenties, they're fun guys, and we found we could really play on the sibling rivalry between them, take elements from how we grew up and apply it to the brothers through this series of fun content."
Working with MediaCom, with help from its Beyond Advertising content division (#Paid also managed the athlete relationship and assisted with social strategy), the brand created content that features the brothers chasing one another through their family home as they compete in various challenges with Nerf Blasters (their prize, besides glory, is the last piece of pizza).
The first content piece (dubbed "period one") rolled out across the brothers' Instagrams in early October; a second will debut this week and a third piece will launch three weeks from now.
The content is being boosted across multiple platforms to ensure that it reaches Nerf's target demo. Justine Wong, senior manager, brand and marketing at Hasbro, describes the Nerf core consumer as a sports-and-games-loving eight-year-old (they even have a name for him: Griffin).
"We're very aware that the brand has mass appeal," says Kingston, which is why it had to be intentional about which platforms it selected. "You can leverage YouTube for that eight- to 10-year-old boy who's aspiring to be a pro athlete, but the 13- and 14-year-old target is going to be on Snapchat and knows where to follow the brothers on social."
Full campaign elements include the Instagram 60-second hero videos and 15- and 30-second cutdowns in English and French across YouTube and Snapchat.